The Seafaring Holy Week of Seaside Towns in Valencia is a veritable spectacle, as streets full of marching brotherhoods combine with events with a most solemn mood just a few meters away from the Mediterranean to create a magical atmosphere.
If you want to experience that atmosphere firsthand, head to Cabanyal, Canyamelar or El Grao, the three seaside towns that are most passionate about their Holy Week traditions.
The thunderous sound of drums, horns that flood the streets, balconies decorated for the occasion with the classic tapestries and religious images hanging from the facades...
And the smells!
Smells of the typical Easter stews that waft out the windows of houses, just like in country villages.
Dishes that mix legumes, cod, tuna and other ingredients, almost always faithful to the Christian tradition of not eating meat during Lent or on Good Friday.
But those sweet and savory recipes aren't limited to the seaside villages of Valencia; the classic Holy Week and Easter delicacies are on display throughout the city, in its restaurants, markets, bakeries and pastry shops.
Let's sample some of the most typical dishes to give you a taste of Holy Week in Valencia.
Those delicacies have to be savored in Holy Week and Easter, because the palate is a journey through time, a visit to traditional flavors, to the holidays of yesteryear, to the authentic identity of each town.
Shall we start our journey?
Top 10 Easter dishes in Valencia and where to eat them
These are the star dishes in Valencia and surrounding towns, served up each year for Holy Week.
Let's do this.
#1 Cod croquettes
We dare say that this is the star tapa in Valencia's Holy Week. So much so that, fortunately, they have earned their place on restaurant menus year-round.
You will also find them as fritters, cod meatballs or, in Valencian, mandonguilles d'abaetxo.
This potato and cod-based croquette creation with a touch of garlic and parsley is usually fluffy inside and a bit crispy outside.
To taste the best version, head to the Pelayo Gastro Trinquet restaurant, nestled next to the only Valencia pelota court left in the city, or to Casa Montaña in El Cabanyal, to Sagardi Cocineros Vascos, to Orio in the city center…
Wait, there are more places worth mentioning: La Alegría de la Huerta in Malvarrosa Meraki Beach & Sky Restaurant on Pobla de Farnals beach, La Marítima in Veles e Vents, La Mozaira in Alboraya, the Tridente in the Hotel Neptuno, La Cuadra and the traditional Casa Quiquet, which also makes great cod croquettes.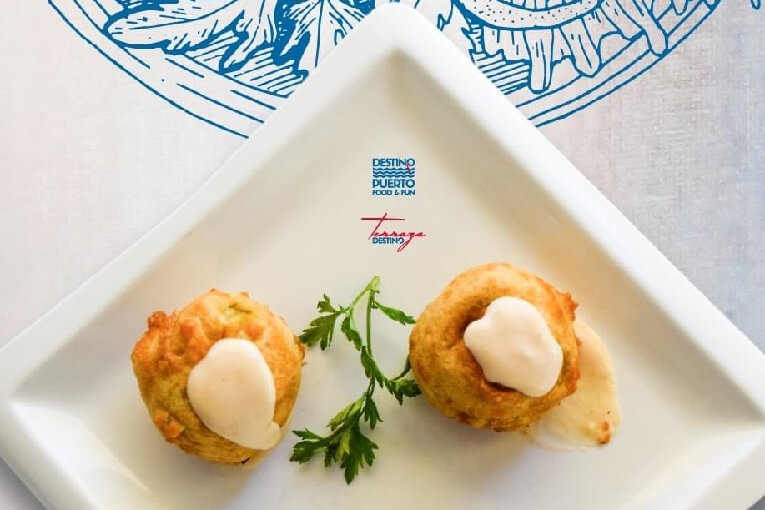 #2 Pickled Sardines
A pickled dish is always good, but it's perfect for the busy Easter season, when you can make it and forget and it's ready to eat in a pinch. And it's so good that there are many who cook it year-round.
The sardine is very typical of Easter festivities because of that whole fish thing.
Where to try it
In the Casa Montaña tavern in Cabanyal they make delicious pickled sardines.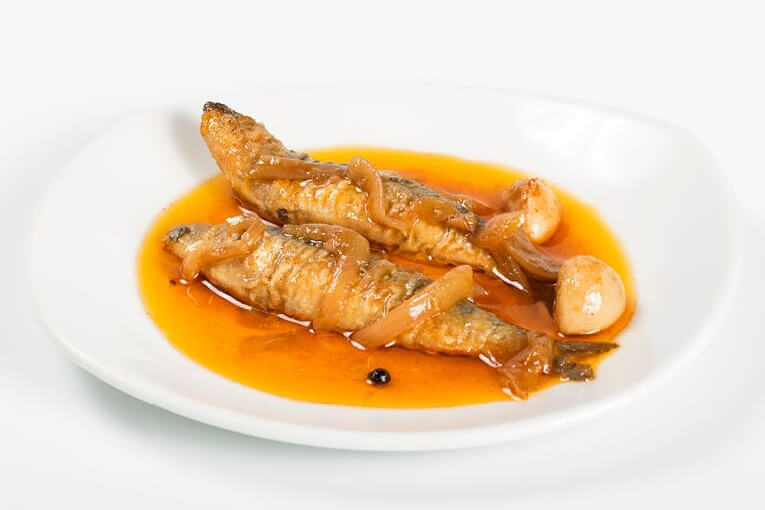 #3 Tender beans with cuttle fish
It's time for beans, so... beans with cuttle fish to avoid meat while making a delicious dish with what the earth has to offer.
This dish has a truly fine texture. Between slices, on toast or in a casserole, this is one dish to keep in mind, and that you can enjoy in Tridente, the restaurant in the seaside Hotel Neptuno, and in the traditional La Càbila.
And then there are other restaurants that have reinterpreted the dish, such as, for example, Casa Quiquet with its tender sautéed beans with organic mushrooms.
#4 Tuna titaina
If you're a local, you must have tried it a thousand different ways, because this dish is made in every home and has transcended the confines of Holy Week.
Also known as Valencian pisto, it consists of sautéed tomato, red and green peppers with pine nuts and seasoned with garlic, although there are those who prefer to leave it out, and then comes the really special part: salted tuna belly.
As you can imagine, it's found everywhere: Pelayo Gastro Trinquet, Sucar, La Alegría de la Huerta, Meraki Beach & Sky Restaurant, La Mozaira and Tridente all have it on their menu.
And there are others like La Marítima and Sabbia that serve it on a pastry shell.
#5 Pepitos
If there is one typically Valencian Easter dish, it's pepitos, and the Mona, which we'll talk about later.
What's a pepito?
It is a loaf of bread with the ends and crumb removed and filled with titaina.
But that's not all; it is then sealed with a traditional toothpick to keep the filling in, and the tips that we took off are soaked in milk, covered in egg and fried. How 'bout that?
We know: they're to die for.
Head to Cabanyal's two heavyweights: Casa Montaña and La Sastrería.
#6 Vigil Stew
A Lenten dish par excellence, the vigil stew is the most traditional recipe for Fridays in this part of the religious calendar, and for Good Friday as well.
This stew based on chickpeas, cod, spinach and topped with chopped hard-boiled egg is perfect for the usual cold and humid days of this time of year: it warms the body, it's nutritious, tasty and has no meat.
To taste this wonder after a long simmer that brings out its strong flavor, the best thing you can do is head to Casa Montaña, although many restaurants add it to their special Easter menus.
#7 Cuttlefish with onion
After trying the cuttlefish with onions typical of Holy Week and Easter in Valencia, your concept of this cephalopod that we are all used to eating grilled will change forever.
As its name suggests, it is cuttlefish cooked with onion over low heat with good olive oil, bay leaf, pine nuts and a pinch of paprika until all the ingredients come together, almost forming a whole.
It's traditionally eaten as a sandwich, but serving it with chips is a treat. One thing is clear: you're going to need bread.
Where should you go to try it in its most traditional form? Set course for Casa Montaña and La Marítima.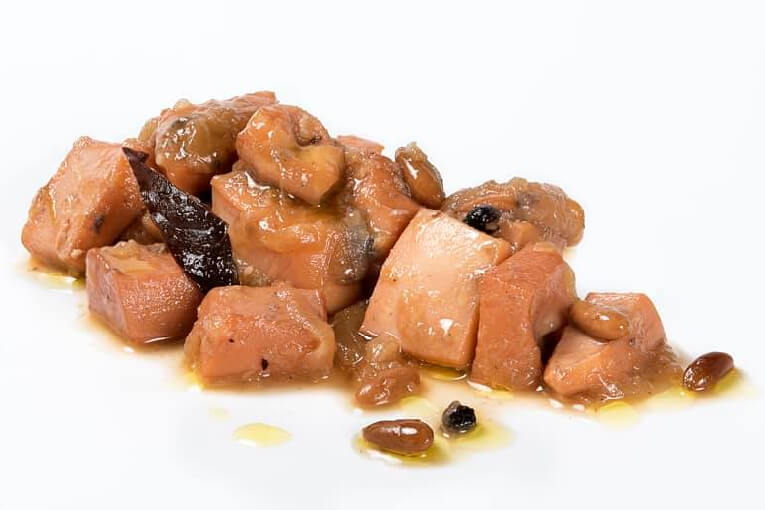 #8 Conger Suquet
If you're in Valencia and you've never tried a fish suquet, you're missing out.
This stew so typical of the Mediterranean tradition is a recipe that requires quite a lot of preparation and ingredients: tomato, garlic, parsley, crushed toasted hazelnuts, potatoes, fried bread, fish broth and, in Holy Week, conger eels, although it is also made with other fish.
The result is an aromatic and tasty dish that absolutely requires bread for dipping.
A good place to try it is the seaside tavern Destino Puerto, in the Marina Real on the banks of the canal, opposite Veles e Vents.
#9 Lenten Cod
By now you will have noticed that cod is an essential ingredient in the typical Holy Week fare of Valencia.
And here comes another recipe that teleports you to that old-fashioned flavor we talked about before: Lenten cod.
What's in it? Artichokes, almond sauce, garlic, toast and parsley, hard-boiled eggs for sprinkling and desalted cod, of course. Again, serving it with a hearty bread is essential for dipping in the sauce.
Destino Puerto does this dish right. Drop by, give it a try and ask for a spoon, lest you leave a single drop of that sauce on the plate.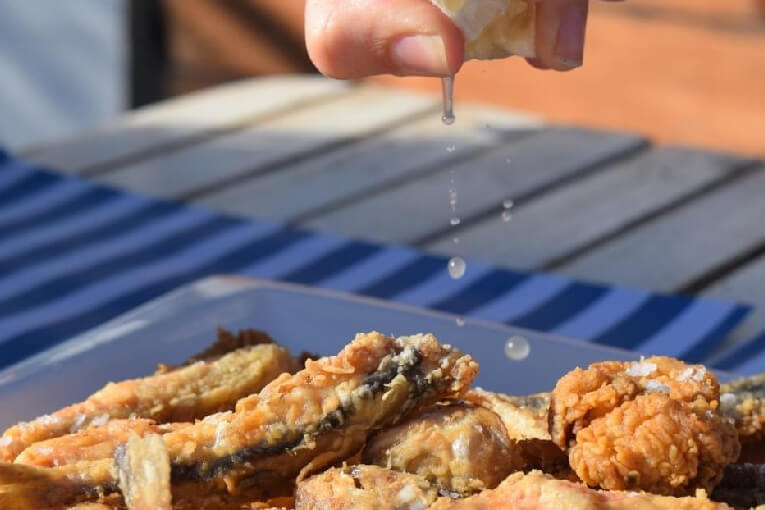 #10 Boot Sardine
A list of typical Valencian Easter dishes has to have boot sardine, or sardina xafada a la porta, meaning it is flattened with the door hinge.
No, really; this tradition goes way back, and it was done to remove the scales and thorns of this salted sardine, which was wrapped in kraft paper.
Yes, salting is a basic technique in traditional Valencian cuisine.
But it's not eaten by itself; rather, it's served with green peppers and fried eggs. Crazy, right?
You can treat yourself to this iconic and spectacular trio at lunch time in many bars, but if you're looking for a safe bet, go to Cremaet, on Avenida del Puerto.
The most famous Easter desserts in Valencia
You didn't think we'd forget about dessert, did you?
Perish the thought! Look at these two pearls we have for Holy Week in Valencia:
#1 Homemade torrijas
Okay, so torrijas aren't just typical of Easter in Valencia, but what would you say if we told you that this local version is not soaked in milk, but in horchata before frying it?
In case you didn't know, torrijas are a typical Holy Week and Easter sweet that is made with slices of bread soaked in milk and dipped in beaten eggs. They are then fried in hot oil until golden brown.
They are cooled and dusted with a mix of white sugar, cinnamon and lemon zest.
So far so good, but then along came Valencians and we added our own twist by instead soaking the bread in our most typical drink; the result is impressive.
There are many restaurants, like Vaqueta, that offer this version or the traditional milk variety, and not just in Easter. It's one of those recipes that transcends the religious calendar.
You can also try them in places like Casa Montaña, Canalla Bistro Bar, Doña Petrona, La Alegría de la Huerta, Meraki Beach & Sky Restaurant, La Marítima, La Mozaira, Tridente, Coso del Mar.
And if you want to try torrijas with yet another twist, in La Cuadra they make them with cremaet (coffee with rum and other ingredients) and cream of rice. Amazing.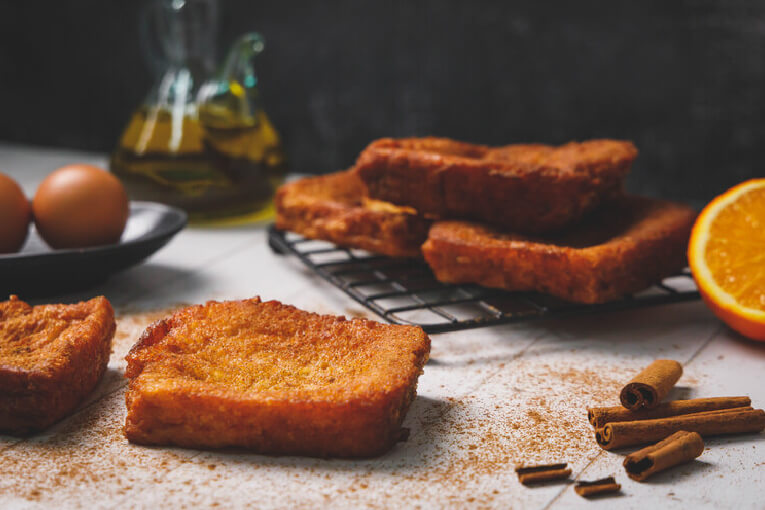 #2 Coca de llanda
Another icon of Valencian gastronomy in Easter and year-round is coca de llanda, so called because it is made with a pastry shell shaped using a traditional brass mold.
There is no more delicious and easy dessert to make than this cake, which is as simple as it is versatile. On Easter, tradition dictates that it be dipped in a cup of very thick chocolate, or at least served with a square of chocolate for breakfast or as a snack.
It's very easy to buy llanda de coca or coca boba, since most traditional bakeries make it daily.
And some restaurants like Meraki Beach & Sky Restaurant, La Mozaira and Tridente also include it in their menus.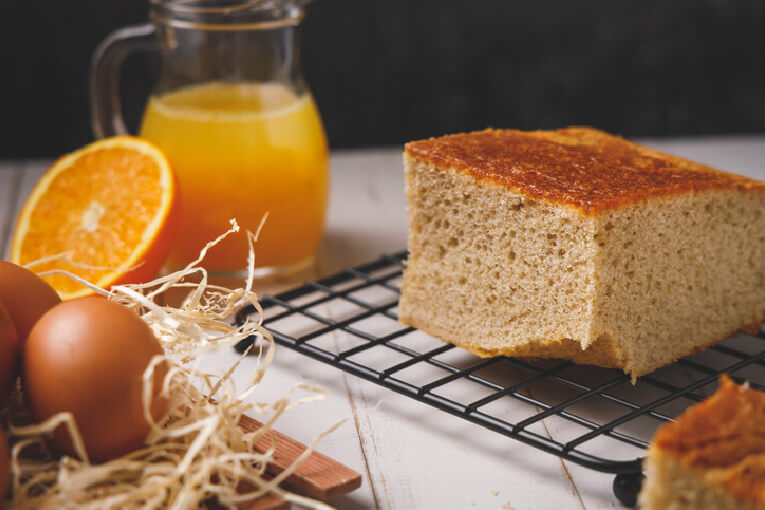 Other typical Easter delicacies in Valencia
This primer with recipes from Valencian Easter Week is coming to an end, but not before mentioning two classics among classics.
#1 Easter Sausage
The Easter sausage, or longaniza, is not just any sausage: it is elongated and quite spicy and is left to dry to be eaten raw.
There is no afternoon snack on Holy Week that doesn't include at least a piece of this delicacy: sandwich in one hand and longaniza in the other, it's the essence of happiness at get-togethers with friends at Easter.
Stop by the Central Market, the one in Ruzafa or Cabanyal, or any of the other Municipal Markets in Valencia, and you'll find it there for sure.
#2 Mona or panou
Mona, panou or panquemao is what we call this typical Easter sweet bread in Valencia, and probably the only one you won't find at other times of the year.
A legacy from Arab times, this delicacy is a cake made with flour, egg and sugar that is eaten around Easter as a snack, after that sandwich with a piece of Easter sausage that we talked about earlier.
It's round and at its center it has a hard-boiled egg, although lately it's sometimes replaced by a chocolate egg.
If it has an egg in the center, anise seeds on top and the serving size is for one person, then it's called the mona de Pascua.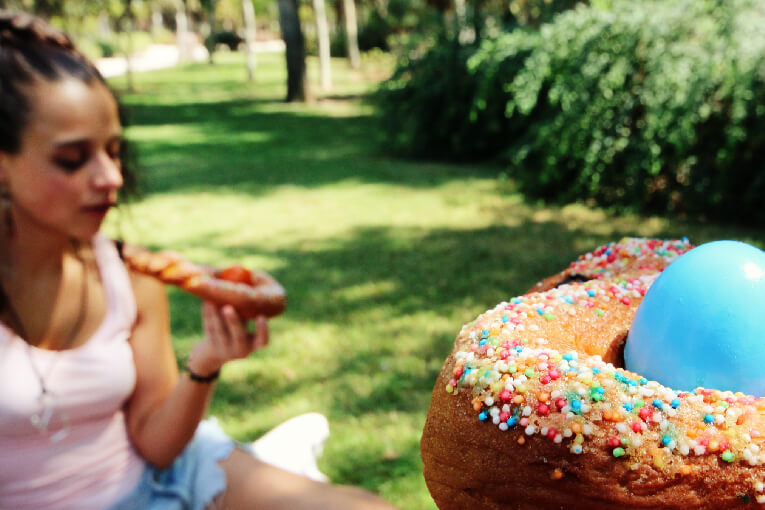 And if it comes with just a little sugar on top, then it's panquemao or panou; in this case it can be a single serving or for sharing, since it comes in many sizes.
As we said before, the mona is only sold at Easter time. Of course, they are everywhere: there is no single bakery, sweets store or even a supermarket worth its salt that doesn't have monas with hard-boiled or chocolate eggs.
Panou is easier to find because many stores have added this product to their lineup year-round. To buy it, just look for it in the city's bakeries and stands in the Municipal Markets. You should have no problem finding it.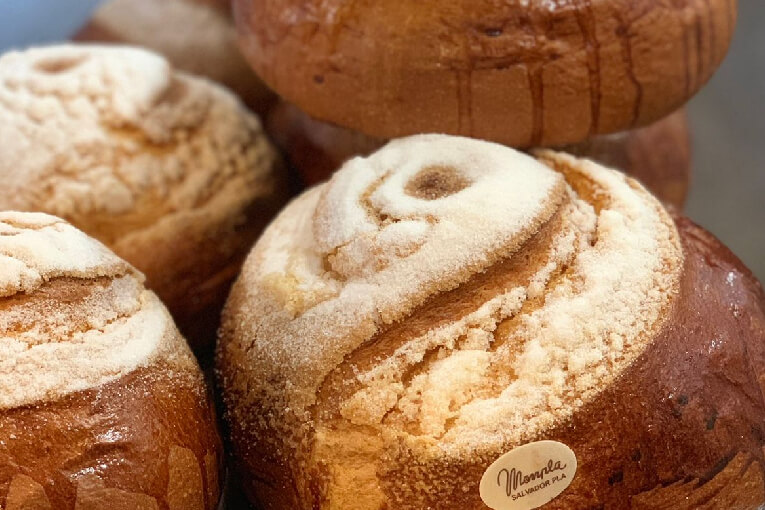 And that's our list of typical Easter dishes in Valencia. Make the most of the season and give them a try. Soak in the atmosphere of the city, visit its most devout neighborhoods and come up with your own top-ten Valencian Easter recipes.