Delicious, tasty and international: this is Valencian paella. And so universal, it even has its own emoji. In addition to being the most popular and traditional dish in Valencia, it is on the list of most searched recipes nationally and abroad.
It is so famous that it has even managed to be declared a Good of Intangible Cultural Interest, and racked up no fewer than eight million Internet searches... Every year!
If you want to know what a proper Paella is, its origins, the authentic recipe and where to eat some of the best, read on, because from now on, you're going to be a pro of the Valencian dish par excellence.
What paella is and isn't
Valencian paella is a dish made from rice grown in the l'Albufera region of Valencia, cooked with ingredients from local farms, in a frying pan with two handles and over an open flame.
Anything that doesn't meet these criteria is not a real Valencian paella. As the most extremists would say, it would be "rice with things".
Controversies aside, although the most traditional one is made with chicken, rabbit and vegetables such as the common bean and lima bean, the paella does in fact come in different varieties, depending on where in the Valencian Community it is made.
That's why you can often find it with snails, artichokes, red pepper, duck and even meatballs, but the mother of all paellas is made with chicken, rabbit and vegetables from the Albufera area.
To understand why this is so, let's consider its origins.
Some background
The Valencian paella was created in l'Albufera back in the 16th century, although the earliest documented records are from the 18th century.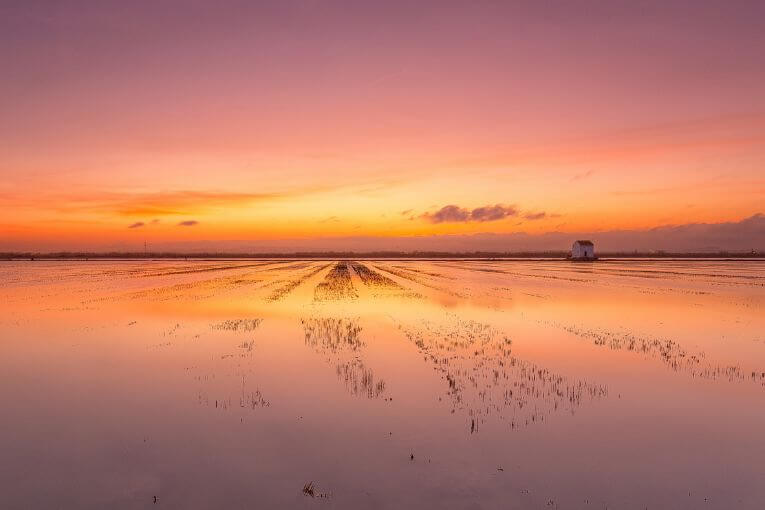 Either way, one thing we know for sure is that, like so many things, it was born out of necessity.
Of the necessity of farm workers to prepare nutritious and hearty dishes with whatever was available, such as rice, native wildlife like rabbits, and vegetables they grew themselves, such as green beans, peppers and tomatoes.
As a result, depending on the place where it is made, ingredients are sometimes added to the initial recipe.
For example, in the area of l'Albufera, it's common to include duck and snails; in La Safor, lean meatballs, called "pilotetes"; and in Castellón, artichokes.
From those humble beginnings, paella made its way into every home, spreading to large cities before, in the 20th century, the tourism boom of the 1960s made sure it became an international phenomenon.
And its name?
The name of the dish comes from Valencian, in which "paella" means pan and which, in turn, comes from the Latin "patella", a term used to refer to a kind of large metal plate.
In other words, the recipe took the name of the container in which it is cooked.
Now that we know a little more about the history of paella, let's look at the recipe for those who like to dabble, and the best places to order it for those who'd rather not risk it.
The keys to cooking authentic paella
If you want to make the genuine Valencian paella recipe, you will have to get special utensils and the right ingredients.

Take note.
Paella and fire
As we said before, a real paella should only be cooked over fire and in the classic two-handle pan that we are all well familiar with.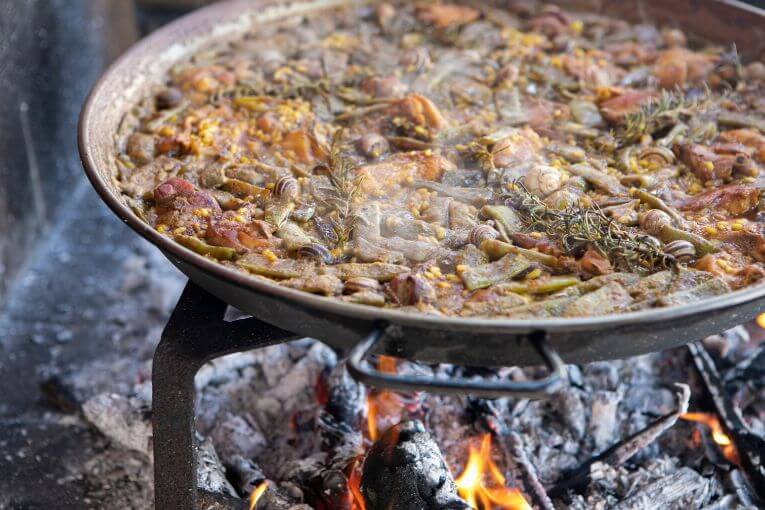 If you are new to this paella thing, make it with gas so you're in charge of the flames, and not the other way around. Better leave the firewood for when you're more experienced, or order it at one of the many restaurants that make it in Valencia.
With these tools, you're most of the way to achieving the perfect result.
Let's start with the ingredients.
The ingredients of authentic Valencian paella
Main ingredients: chicken and rabbit, common and lima beans, and tomato.
All nice and fresh!
Seasoning: extra virgin olive oil, sweet paprika, saffron, salt, water and a sprig of rosemary for flavor.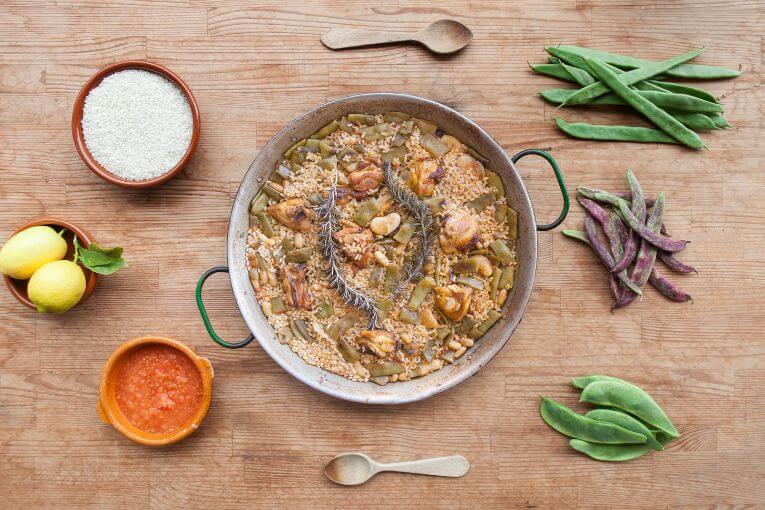 There are also recipes that include garlic, but since that's yet another source of controversy, we invite you to make it with and without and decide which one you and yours like best.
There's just one more detail that can make all the difference: the rice.
What kind of rice is used to make paella?
You can't go wrong with any of the varieties of the Valencia Rice Designation of Origin grown in the Natural Park of l'Albufera - Senia, Bomba and Albufera - since they are all great flavor amplifiers.
If for whatever reason you can't find this type of rice, use another one, but make sure it's round like the l'Albufera varieties; never ever user long, Oriental rice, or the small-grain rice used for sushi.
And that's all there is to it, just be sure to make it with lots of TLC.
You may be wondering about other items you've seen on occasion, like mussels or shrimp.
Well, just so you know, tossing seafood into the classic recipe while still calling it a Valencian paella is considered almost criminal: that's not a "real paella", but another type of rice made in a paella pan.
The thing is, in Valencia we have a thousand recipes and, naturally, some of them have fish and seafood.
A paella is made with some of the best-known rice varieties.
Other rice cooked in a paella pan but that isn't paella
In addition to each town's paella variants, there are many other rice dishes that are cooked in the same container and that in most cases are made with fish broth and seafood.
That's to be expected considering how much coastline Valencia has.
These seafood rice dishes are rooted in the boats of fishermen, where they cooked whatever the Mediterranean Sea offered up.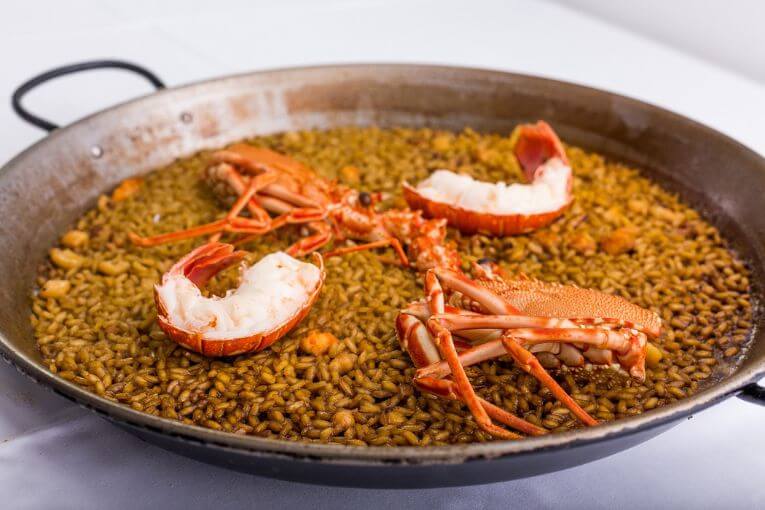 In short: the same philosophy as paella, but different products.
The most popular are:
• Arroz a banda,or rice on the side, so called because it was served separately after the main dish, which was usually fish with potato and onion. The rice was then cooked with the broth from the stew and served. These days, everything is served together in the paella pan.
• Seafood paella,made with shrimp and lobster or other seafood, depending on the season, such as crab, mantis shrimp or lobster.
• "Arroz del senyoret", or gentleman's rice, the most "comfortable" to eat because the seafood comes clean without a shell.
Any of these delicacies can be eaten in a multitude of restaurants in Valencia that do justice to the recipe: downtown, on the beach, in the local farmland or in the Albufera itself, all you have to do is decide where to eat the paella and let yourself go.
And don't be surprised if the paella is put in the center of the table with no plates, or if you're offered a wooden spoon, as these are three of the most Valencian customs ever.
That's right: the paella is eaten directly from the pan with a wooden spoon. But take note, because Valencia etiquette dictates that you can only eat the portion that's in front of you.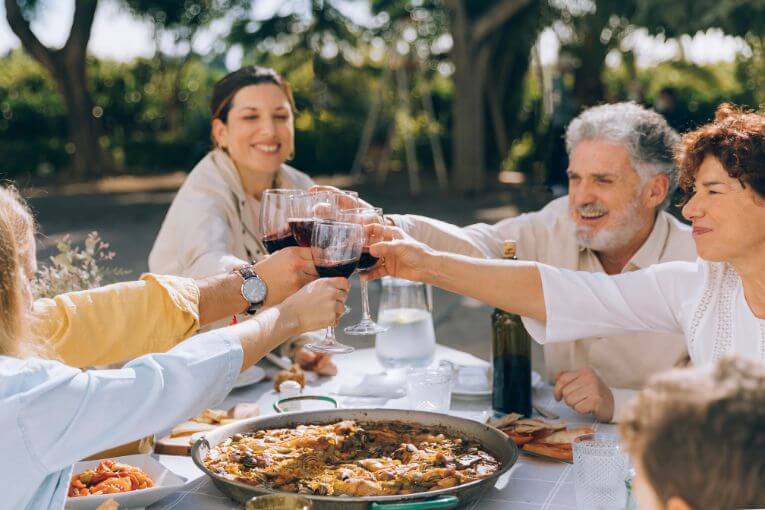 #WorldPaellaDay
Did you know it even has his own contest? #WorldPaellaDay is held every September 20 with events in different countries, a tournament in which chefs from all over the world compete for the title of best paella in the world.
On top of this impressive resume, top chefs serve it in their restaurants, while others offer their own take on it. Some have even put chorizo in it! Not without a deluge of criticism, of course.
You see, paella can't be cooked in just any old way: the pan, the ingredients and even the water have an effect on the final result.
With this info, you can now consider yourself an expert in Valencian paella. All that's left to do is say:
Bon profit!