Summer is officially here! And with it, the first dips in the sea. You may opt to stretch out on a deck chair, bon vivant style (not a bad choice), but we encourage you to get your feet wet and try some of the most on-trend water sports. There are options for romantics, for adventurers, for the cautious and for the most daring. Ready to embark on our journey? Here are 10 things to do in the sea that you won't want to miss when you visit Valencia.
1.

Introduction to paddleboarding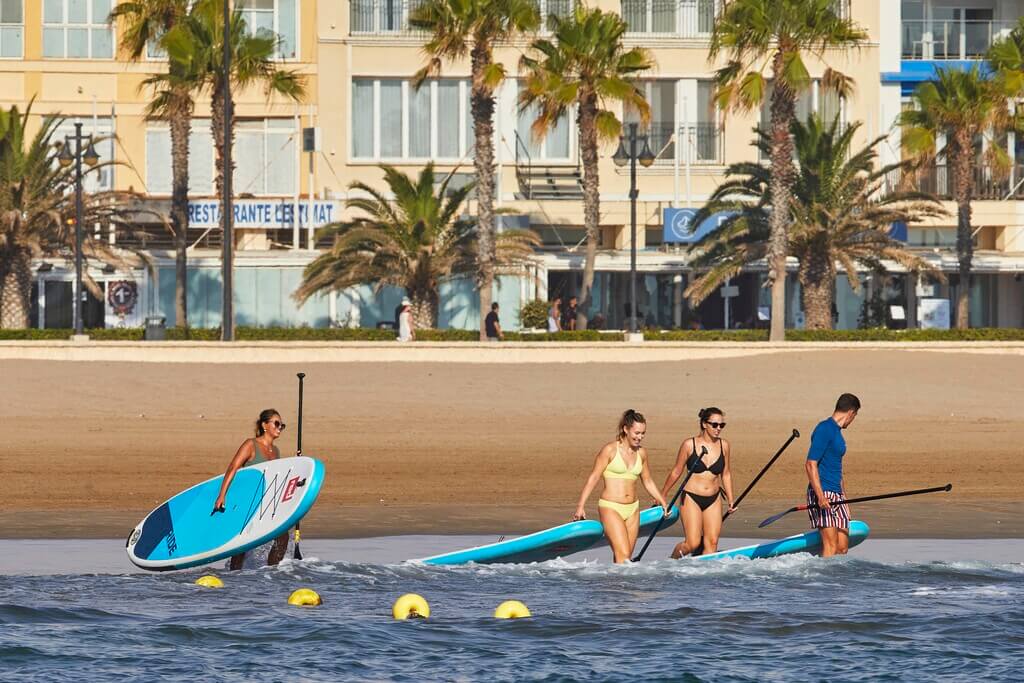 Paddleboarding is here to stay. Since it arrived in Spain in 2008, it has become one of the most popular water sports along our coasts. The fact is, it has everything: it's perfect for a calm day, and it's very well-rounded as a sport because it uses balance, strength and coordination. Plus, it is non-impact and ideal for any level of physical fitness. And if you get tired, you can lie on the board and enjoy the sun.
Give it a try with the introduction offered by Ocean Republik in the waters off Malvarrosa Beach or at La Marina de València, Saturdays and Sundays, 10.00 am or 12.00 pm. The activity lasts an hour and a half, and it is suitable for ages 8 and up.
Take this opportunity to try the most on-trend water sport!
2.

Windsurfing lessons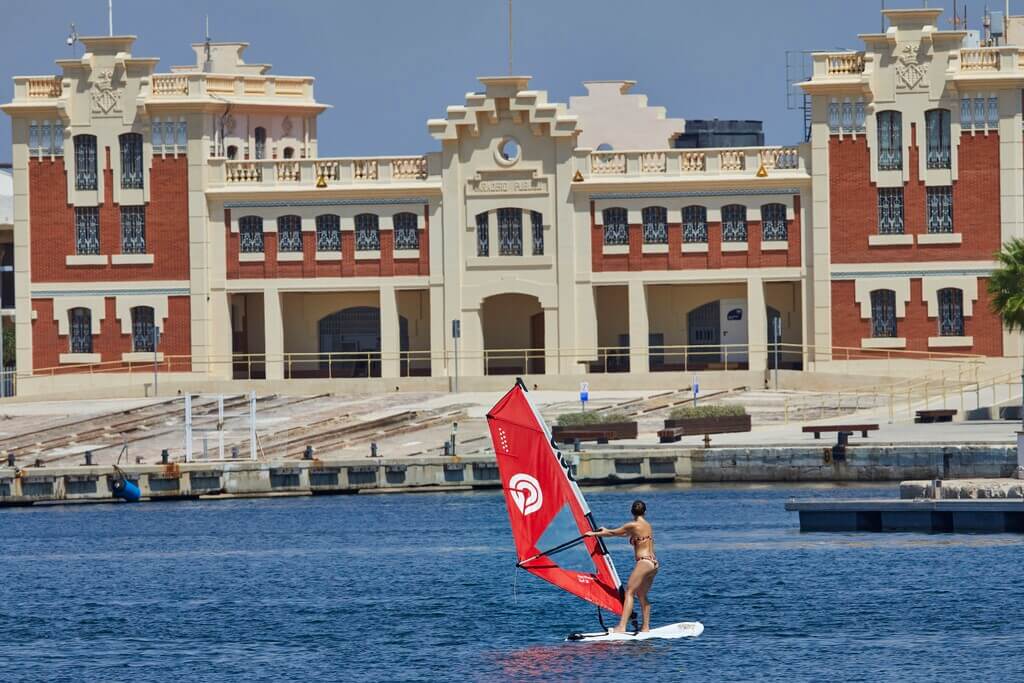 Explore windsurfing with a class that includes both the theory and practice of this sport. Two hours riding the waters of the Mediterranean Sea with the aid of the much-loved thermal wind that blows almost all year-round in Valencia.
Windsurfing lessons are available Saturdays and Sundays, 12.00 pm and 3.00 pm at La Marina de València. If you're interested in other times, check here.
3.

Full-on adrenaline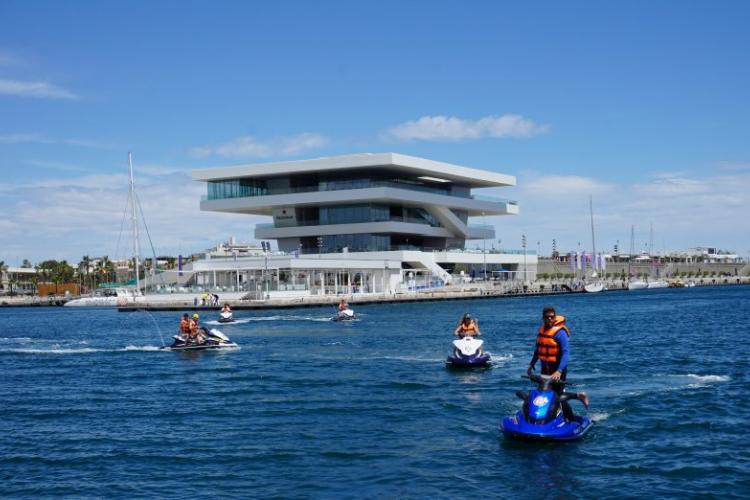 Got a need for speed? Riding a Jet Ski is a unique sensation and a totally new experience of the sea.
In this 30-minute activity, you will be accompanied by qualified instructors, who will teach you to drive the watercraft, taking every safety precaution.
And any day is a good day to give it a try; the activity is available seven days a week, from 9.00 am to 8.00 pm, for ages 16 and up. Don't wait, book online now.
4.

Romantic sunset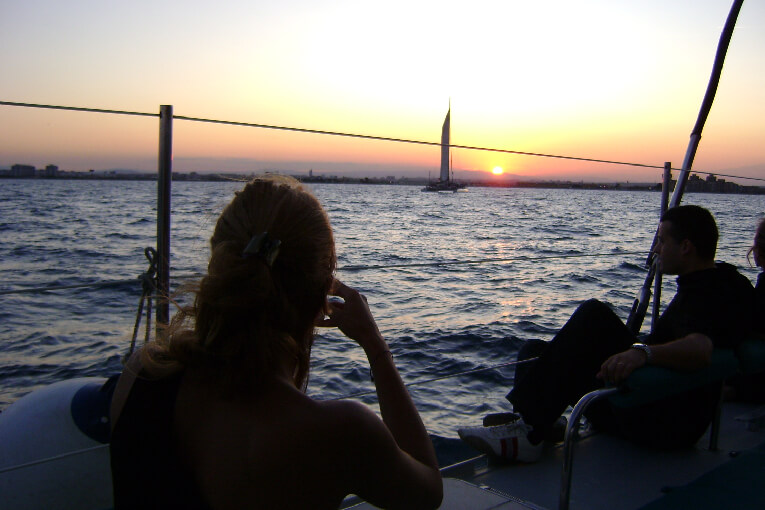 Because you deserve it, and so does your partner. If you're looking for an original, romantic and relaxing option, book a sunset catamaran ride. You'll enjoy an hour and a half ride with a glass of our famous agua de València, the local cocktail par excellence, made with orange juice, cava sparkling wine and other spirits. This fantastic plan is available every day at 8.00 pm, except Mondays and Saturdays. Treat yourselves to the celebration you deserve!
5.

Lunch on the open sea
Every Friday and Sunday at 1.00 pm, the Mundo Marino catamaran sets off from La Marina de València to explore the Mediterranean. The plan? Three hours at sea, lunch included. Decide whether to do a bit of sunbathing, enjoy the view from a shady spot or take a dip. You have another very similar option on the Boramar vessel, but for two hours, departing at 2.00 pm almost every day. And booking is a snap: your lunch at sea is just a click away.
6.Swimming cruise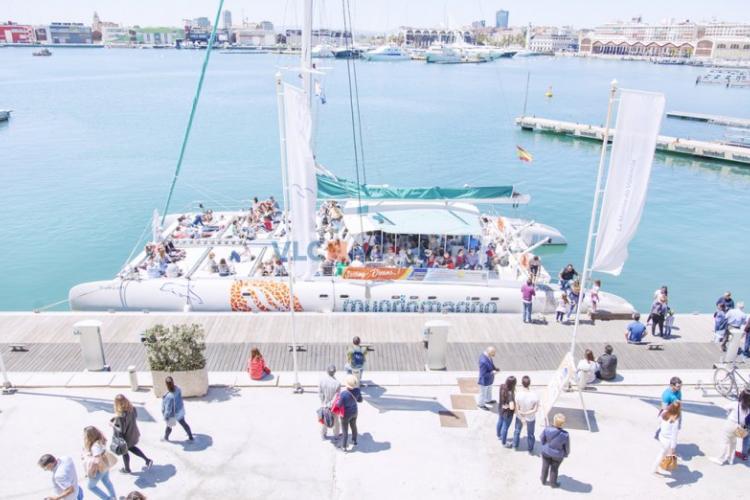 Looking for something fun to do, but you don't have much time? Opt for a swimming cruise, departing from the Veles e Vents Building at La Marina every day except Tuesday. This is another catamaran ride, but this time lasting an hour and a half, with two departure times: 1.00 pm and 4.30 pm (except Saturdays, when 1.00 is the only available time). You can book on the website.
7.

Windsurfing or sailing lessons just for you
The Royal Valencia Yacht Club (RCNV) offers 6- or 12-hour beginning and advanced classes in sailing or windsurfing, divided into 3-hour sessions. Don't be shy, no prior knowledge is needed, and they're designed for all ages.
You'll start with the theory – how to get on and off the board, what each piece of rigging is called – then put it in practice right there in the Mediterranean … off you go! For more information, visit the RCNV website.
8.

Sailing for beginners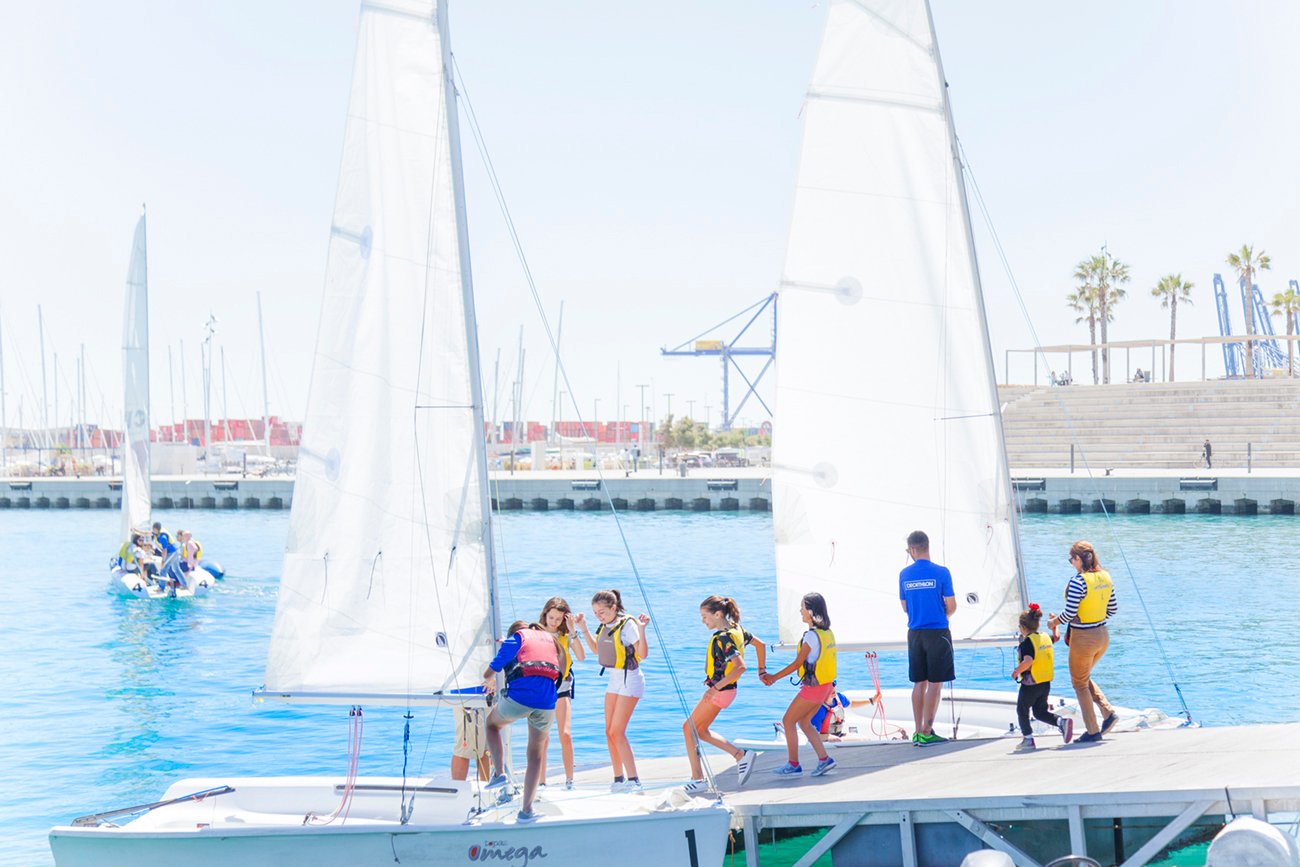 In three short hours, you can become familiar with sailing and find out if there's a sailor inside you. With the peace of mind of knowing that you're always accompanied by a professional, you will learn the theoretical foundations and how to put them into practice. If you're up for it, check out all the details of the Royal Valencia Yacht Club's introductory session.
9.

Head out on your own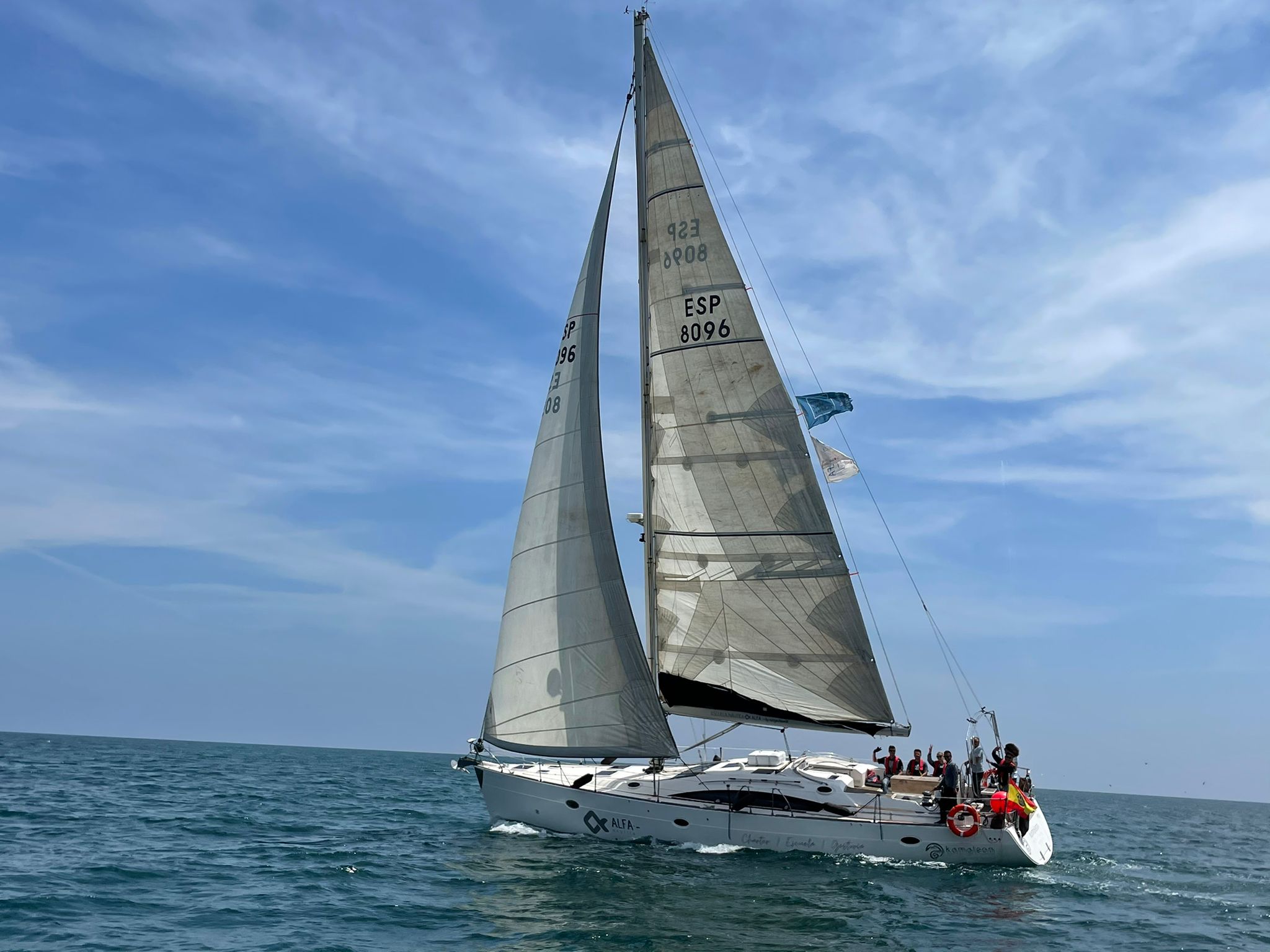 The entire coast is yours, not a care in the world. Because you have a 16-metre yacht at your disposal. Rather have someone else do the piloting? Hire it with a skipper. Want to head out on your own? There are boats that require no qualifications, including launches and inflatable rafts. Get started on planning your getaway: from one hour to a full day, and the boats have capacity for up to 11 people, including speakers and air mattresses in the solarium. You can round out the experience by bringing along some food and drink for a full dose of fun. You can see all the options on the websites of Quicksail, Alfa Náutica or Wavepol.
10.

Full-on fun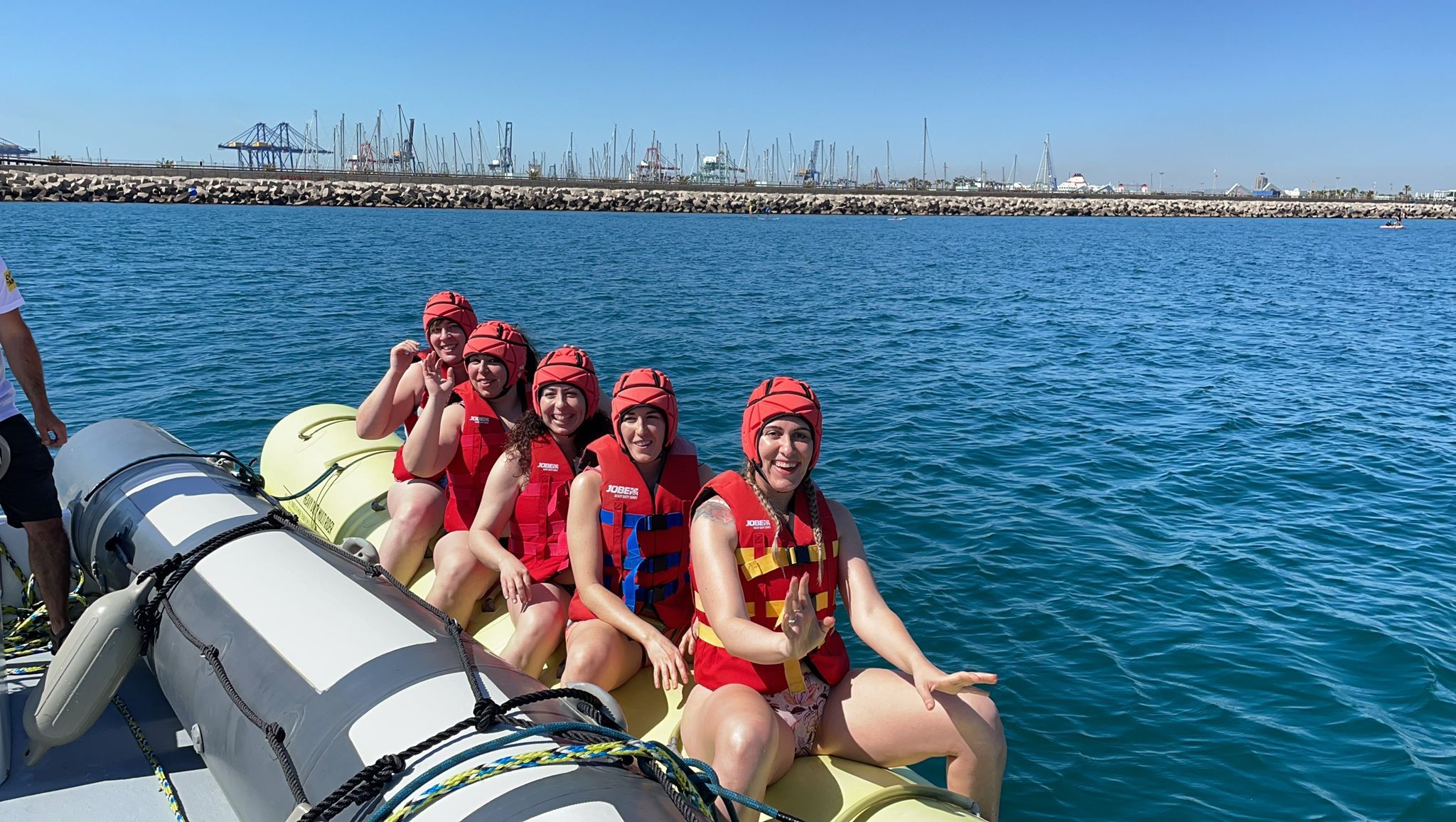 We've left these for last because we think they're the best way to add an unforgettable element to your Valencia getaway. Two water-based activities that you can share with family or friends. Have a look:
- Banana boat. You heard right. A long banana yellow boat you climb on, which is then pulled by a motorboat. Let's see how long you make it before falling into the sea! A laughter-filled 20-minute experience!
- Fly boarding. This is for the most daring and over-18s. Basically, it involves strapping on a board and flying up to 12 metres above the sea. You'll want to try it at least once!
Don't forget: any of these nautical experiences pairs perfectly with the city's culinary offerings, and you can savour them in this exceptional spot: Marina de València. During the day, enjoy the relaxed, pleasant environment with incredible sea views at all the restaurants, just steps from the beach. But don't miss the hubbub that builds as evening falls, when the outdoor cafés come alive with music and drinks. A great way to top off your day in Valencia. Give it a try or you'll have to return!
P.S.: Take advantage of a 10% discount on activities 1 to 3 with the València Tourist Card. 