Summer is over. Behind us are amazing plans, staying up all night every night, and now we have no choice but to get serious about school and work.
Luckily, autumn in Valencia is a delight that gives you the nudge you need.
How? With its mild climate and plans of all kinds and for all audiences, the kind that reconnect you with that autumn rhythm.
Read on to see our selection of the best activities for autumn in Valencia.
12 plans for an autumn getaway in Valenci
a
Here are twelve fabulous plans for you to enjoy the city, especially in autumn:
#1 Late walk on the beach or a dip
You could say that the official bathing season in Valencia ends in late October, when the water temperature drops.
If you come in September or October, pack your swimsuit in your bag, since the beaches in and around Valencia are a must, thanks to their fine sand and clean water.
What if you come later? Bring swimwear as well; there are many days where you can swim at your leisure, play water sports or ride a jet ski.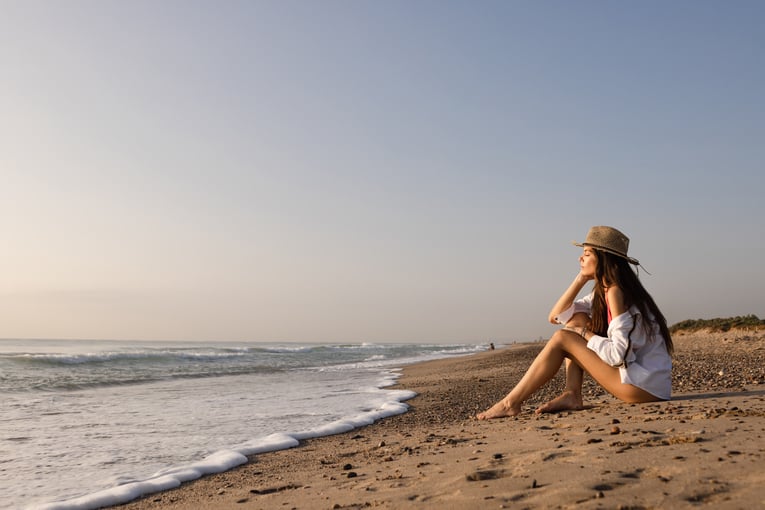 And then…
#2 Eat some good rice at a sidewalk cafe
Eating quality rice on a sidewalk cafe in Valencia can actually be done year-round. But autumn is one of the best times, since the sun no longer scorches and the temperature is lower.
A paella or a gentleman's rice really hits the spot after an autumn dip or a walk by the shore.
If you want to do it with views of the Mediterranean, some of the best restaurants to try Valencian specialties can be found between the Marina and Patacona beach.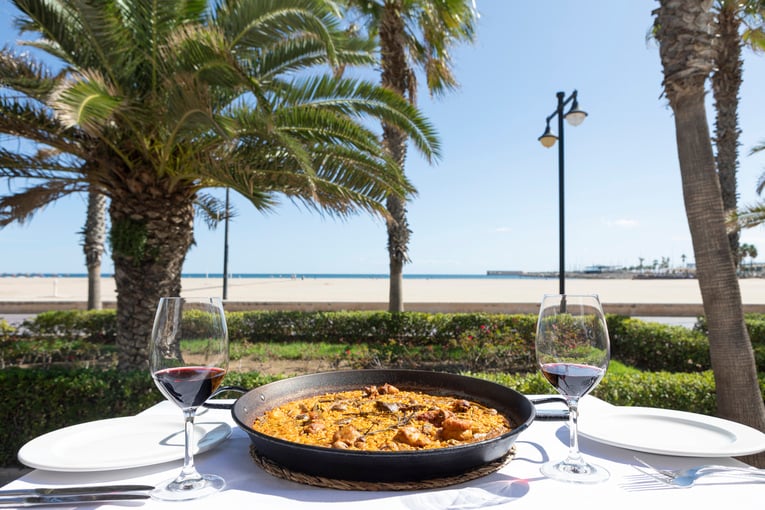 An alternative right on the coast is El Cabanyal; that's what we'd go with.
#3 Tapes in El Cabanyal
El Cabanyal is the old fishermen's quarter by the sea, whose light was immortalized by the painter Joaquín Sorolla.
Well, that light is still there. And many of the houses too.
What has changed is that El Cabanyal is now a trendy area where tapas-hopping is a guaranteed hit.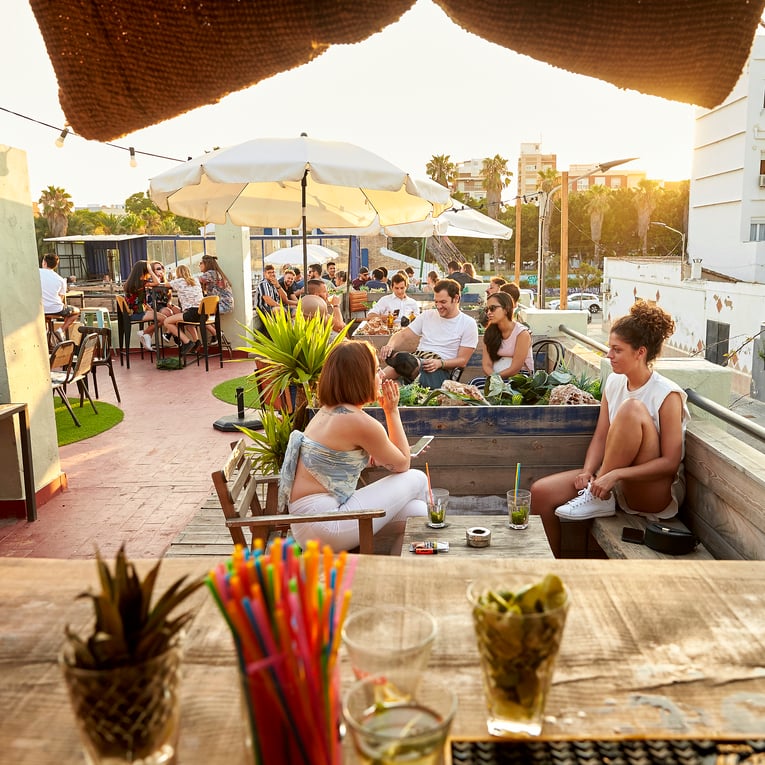 Whether for lunch or an afternoon out sampling various dishes, the El Cabanyal neighborhood makes for a great visit, a place where you will find from the most traditional dishes to signature cuisine.
The Casa Montaña winery, the Anyora vermouth shop, La Pascuala and La Paca are some of the establishments where you can't go wrong.
As the afternoon turns into evening, let's keep going with another Valencia must in autumn.
#4 A water of Valencia in El Carmen or Ruzafa
Valencia in the fall is synonymous with the street, and its neighborhoods regain their usual vibrancy, especially El Carmen and Ruzafa, two of the city's highlights.
Be sure to try an authentic water of Valencia, a cocktail with a Designation of Origin that blends orange juice and some other ingredients like vodka, gin and cava that, when combined in the right proportions, results in a drink with a lot of personality.
Where to try it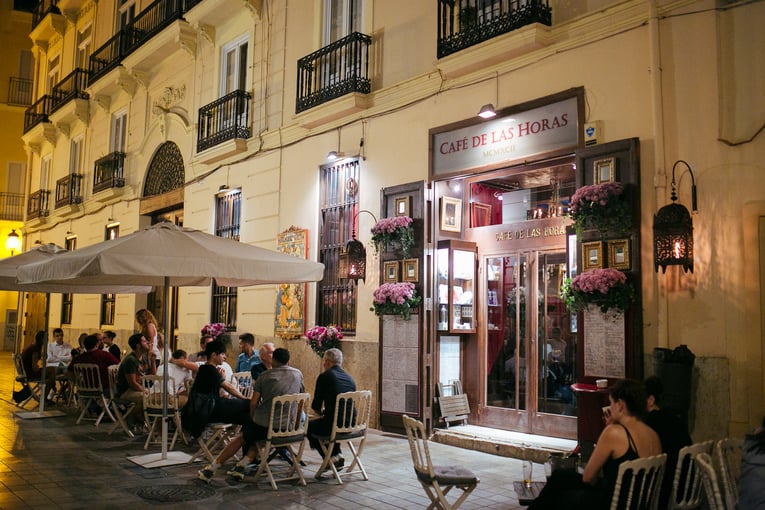 There are many places that serve it, but if we were to recommend two places to introduce you to this most Valencian of cocktails, we'd go with the iconic Café Lisboa and Café de Las Horas. The area and décor are also worth a visit.
Let's transition from one classic drink to another.
#5 Horchata in the middle of farm country
Although you can also order a fresh and artisanal horchata downtown, if you're in Valencia in autumn, you should get one in its place of origin: Valencia farm country. And while you're at it, visit the Horchata Museum.
If you're on a bike, conditions in autumn are perfect for a ride through the countryside to any of the local horchaterías, like Daniel or Bertal.
And don't forget to order some fartons with it.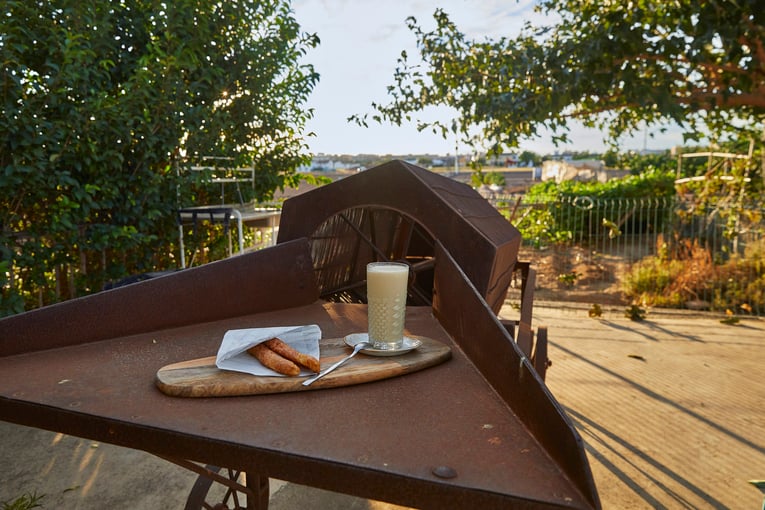 Continuing with the bike theme, here's another perfect plan for an autumn in Valencia.
#6 A bike ride through the Turia Garden
If you combine autumn in Valencia with cycling and the Turia Garden, the result is a great plan to see the city.
The Turia Garden is a green space that crosses the city from end to end through the old riverbed, with a perfectly maintained bike path that provides access to the city at many points along its route.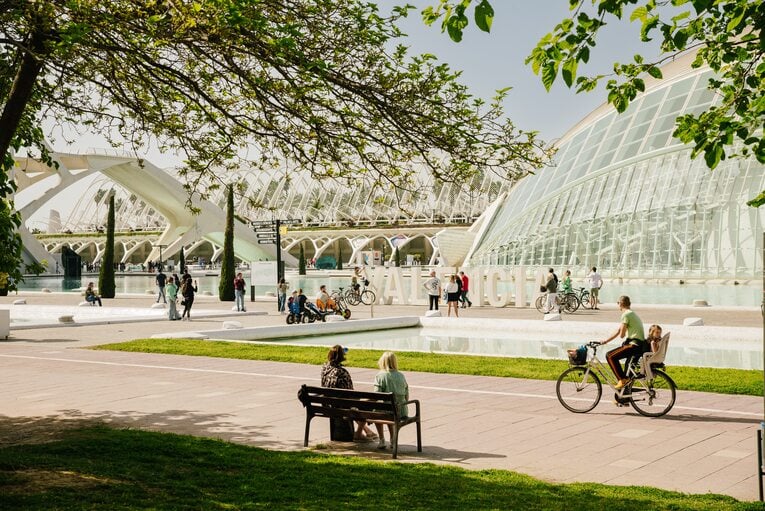 Its 9-kilometer length combines a beautiful landscape with play areas for kids, soccer fields and food stands where you can stop along the way to recharge your batteries.
And although the Turia Garden is the most illustrious of Valencia's parks, it's not the only one.
Want to see another one?
#7 A picnic in the park
Coming in seventh on this list of plans for autumn in Valencia is picnicking in one of its parks, of which there are many.
In addition to the Turia Garden, the city of Valencia has several parks and gardens where you can enjoy a nice meal outdoors. The Central Park in the heart of the city, the Cabecera Park with its lake with boats, and the Viveros Gardens - also known as Jardines del Real - are some of the green oases where you can eat, play and rest.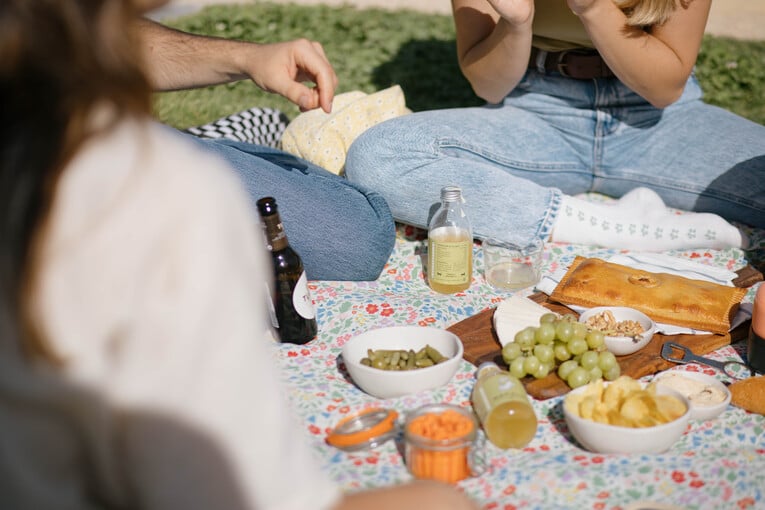 Find for the one that's right for you and continue your day out... the city still has a lot to offer.
#8 A tour of the Fine Arts or the IVAM
Since you can't rule out rain in Valencia in autumn, it's advisable to have some indoor activities on this list.
One of them is to visit one of its museums, such as the Museum of Fine Arts or the IVAM.
The first, the Museum of Fine Arts, also known as San Pio V, is home to Spain's second largest art gallery, exhibiting works from the 15th to the 19th centuries, including fine selections from Sorolla and Goya.
And for those who are more into contemporary art, the Valencia Institute of Modern Art (IVAM) will not disappoint, honest.
Both are by the old riverbed, no doubt a highlight of the visit.
#9 An opera at the Palau de les Arts
And speaking of autumn activities in Valencia where the location is a plus, there's the Palau de Les Arts, a space designed for the music that kicks off the season.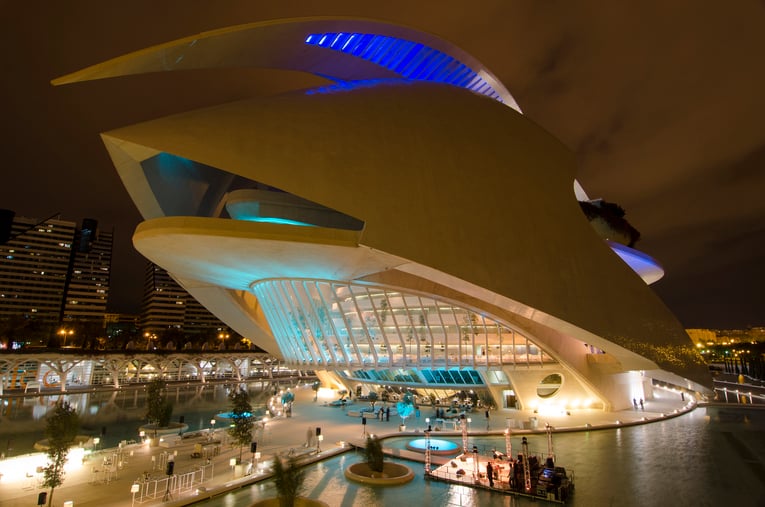 After these cultural wonders, we transition to sports, which also have a place in this city.
#10 The excitement of soccer in Mestalla or basketball in La Fonteta
With the season underway, the competitions get interesting and your autumn stay in Valencia will very likely coincide with sporting events involving some of its top teams.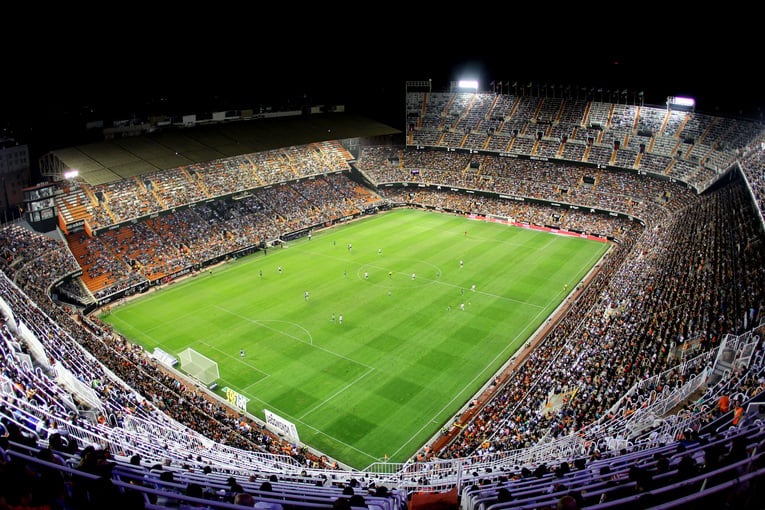 Experience the best soccer league and the atmosphere created by the "che" fans in the Valencia CF stadium, or take an in-depth look at the club's history in the Mestalla Forever Tour, which offers a guided look behind the scenes of Spain's oldest stadium.
And for a powerful sports experience, nothing beats the hard-working ethos of the Valencia Basket Club, which has won numerous national and international competitions in both female and male categories.
Put on your orange t-shirt - taronja in Valencian - and enjoy the best basketball at an Endesa League or Euroleague match in "La Fonteta".
This list of plans for autumn in Valencia is coming to an end, and there are still two that you're no doubt wondering about.
They are...
#11

Hiking trails within a stone

'

s throw of Valencia
One of the charms of the city on the Turia River is the beach and mountain spots located just a few kilometers away.
If you want to recharge your batteries along some of the best hiking trails near Valencia, such as the Water Route of Buñol or the Castle of Serra, they're within easy reach, no more than 30 kilometers from the city.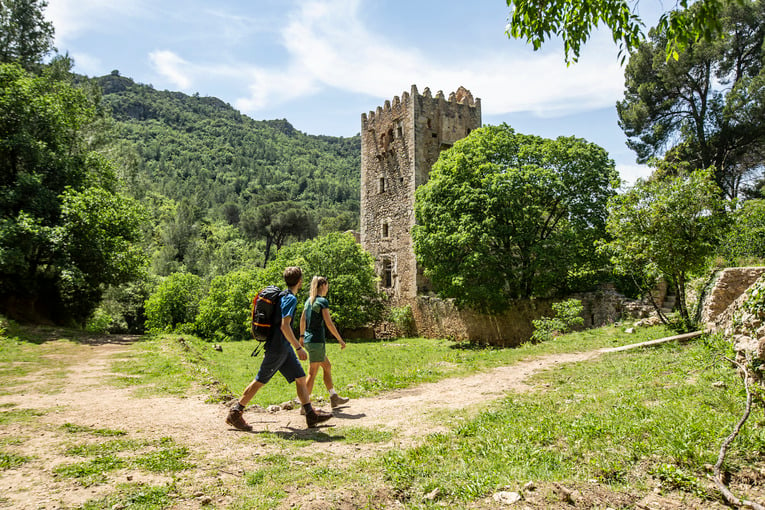 Start off an autumn morning in Valencia with a hike before heading back to the city. Any of your plans can fit beautifully into a two- or three-day getaway.
And we're finishing off this selection of autumn activities in Valencia with one of the most coveted.
Do you know what it is?
#12

Watch the sunset from

l

'

Albufera
You didn't think we were going to finish our list of things to do in autumn in Valencia without visiting the Albufera Natural Park, did you?
We are indeed finishing with the star attraction: watching the sunset from a typical boat known as an albuferenc; a panoply of gradients ranging from blue to the most powerful orange, with the soundtrack provided by singing birds.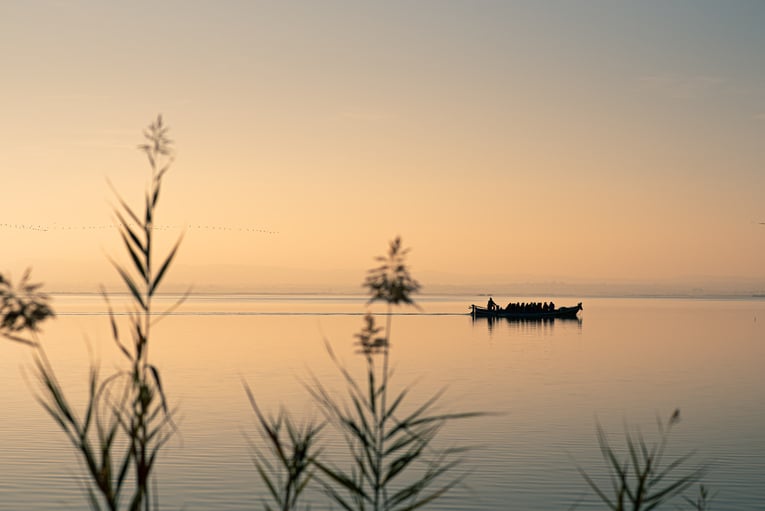 You can go there in your own car, or by bus or bike.
However you get there, the perfect combination is touring the rice paddies, eating an authentic wood-fired paella in any of the traditional restaurants in the area, and topping off the day by watching the sunset from a boat.
And there you go, a list of twelve plans to experience autumn in Valencia, a time of year as placid as its temperatures.
Are you in?