Barrio del Carmen is a neighbourhood filled with contrasts located in the centre of Valencia's old town, an area that is at the same time both ancient and modern. Its medieval side streets embrace La Virgen Square and València Cathedral, bursting with Mediterranean spirit. There are sunny squares and sidewalk cafés, museums, landmarks, artisanal handicrafts and designer shops, authentic markets, and a variety of restaurants and bars to enjoy Valencia's cuisine. When you visit Barrio del Carmen, you find yourself travelling back to the culture of Arabs, Christians and the Middle Ages. History intermingles with a very dynamic present in spaces overflowing with the avant-garde, authenticity and atmosphere.
From the Quart Towers to the Serrano Towers. From El Tossal Square to El Árbol Square. From Central Market to Mossén Sorell Market, you will find delightful buildings and spots along every street in Barrio del Carmen. To help you discover every one of them, we offer some tips for making the most of your visit to the neighbourhood.
Breakfast at Central Bar in Central Market
Why not start the day with a must-see: Central Market, a Valencian art nouveau icon. The structure – made up of tiles, stained glass windows and iron columns – is sure to impress, as are its colourful contents. A festival for the senses.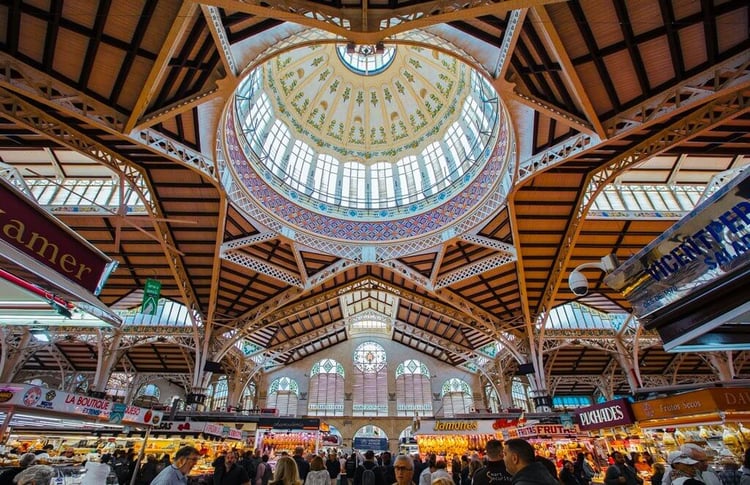 Take the opportunity to have breakfast or lunch (the market is open 7.30 am to 3.00 pm) at Central Bar by Ricard Camarena. The Valencian chef, who holds two Michelin stars and one green star, has made his philosophy of locally sourced cuisine based on the 'Kilometre 0' concept a reality with a delicious menu of sandwiches, tapas and desserts using fresh ingredients, many of them purchased daily in the market itself. There's no need to book a table to enjoy a traditional Valencian mid-morning esmorzaret with seasonal ingredients in the incredible setting that is Central Market.
A healthy dose of art
Contemporary art, avant-garde, classic culture? Whatever your preference, you'll find exciting options in Barrio del Carmen.
The Carme Contemporary Culture Centre (CCCC), situated in the former Nuestra Señora del Carmen Monastery, was also home to the School of Fine Arts and Crafts. The building, which includes a Gothic cloister and another in the Renaissance style, is alone worth a visit. But its current offerings will also not fail to surprise, ranging from visual and performing arts to performance and music. The shows bring together a wide range of artistic languages and change frequently, meaning there is always something new to discover at the CCCC.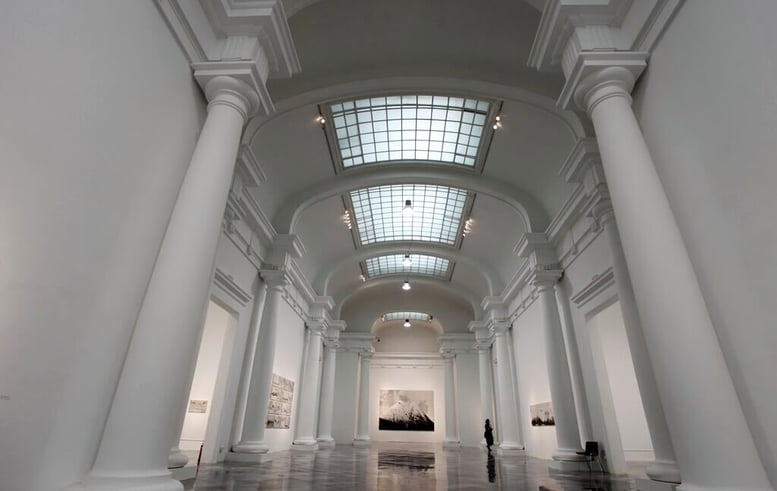 Another can't-miss visit is the Valencian Institute of Modern Art - IVAM, an important venue for the historic avant-gardes of the 20th century. The permanent collection includes paintings, sculptures, drawings, photography, video and installation pieces by national and international artists, such names as Julio González, Ignacio Pinazo, James Rosenquist, Carmen Calvo, Rodchenko, Cindy Sherman and Alexander Calder. There are also regular temporary exhibitions, installations and performances.
If you're interested in history and artisanal crafts, you won't want to miss the Silk Museum. Located in a 15th-century building that combines the Gothic and baroque styles, the museum offers the chance to discover how important this cloth once was and the legacy it left behind in the city. Valencia became the epicentre of a powerful textile industry, exporting to the rest of the world for centuries. The exhibits include fully functioning looms, how silkworms were raised, clothing items and historical documents that illustrate the history of silk in the city.
When hunger strikes …
Barrio del Carmen boasts a wide variety of very, and we do mean very, good restaurant options at reasonable prices. A visit to the Silk Museum is the perfect opportunity to eat at the museum restaurant, Espai Seda. The patio is a delight any season of the year, and the menu features Mediterranean cuisine.
If you fancy sampling classic Valencian flavours, you'll want try Yuso. They specialise in paella, arroz meloso (creamy rice) with lobster, fideuá (seafood vermicelli) and clóchinas (Mediterranean mussels). Or opt for Vaqueta Gastromercat, a designer spot offering the best of the region.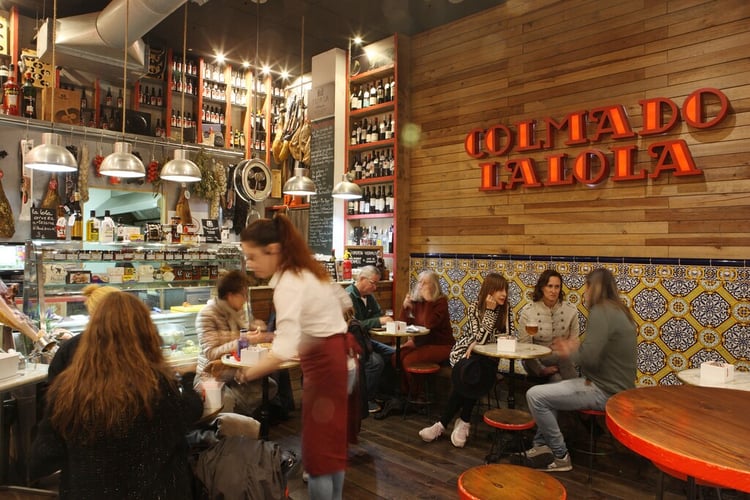 And if you're in the mood for tapas, stop by Colmado de la Lola. This cult spot is perfect for sampling fresh items, including oysters and sea urchin, salted and smoked fish boards, homemade croquettes and scrambled eggs with truffles.
On the international urban art map
If you spent the morning visiting a traditional museum, we recommend an afternoon of outdoor art. Hit the best murals and graffiti in Barrio del Carmen with the urban art or street art tour. The neighbourhood façades and walls have been turned into canvasses, with work by Escif, Julieta, David de Limón, Deih, La Nena Wapa and Barbi.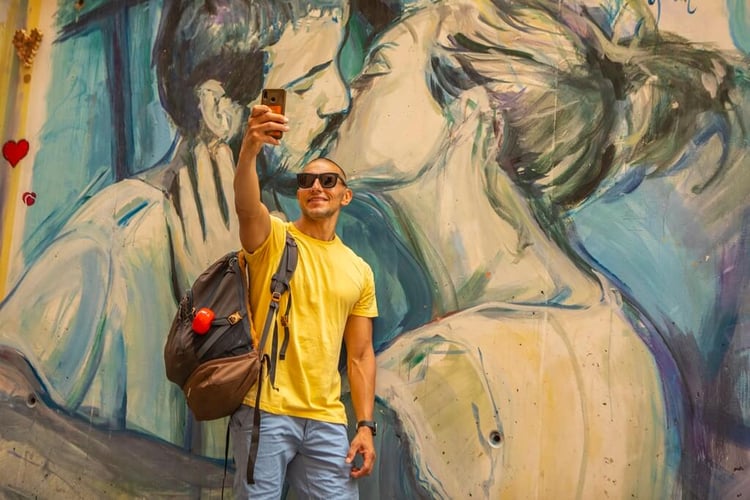 Afternoon snack Valencian style
After a long walk, you'll be wanting a bite to eat. And in Valencia your best choice in such a situation is a tasty horchata con fartons (tiger nut milk with sweet bread). In Barrio del Carmen we recommend El Collado, known as the oldest horchatería in Valencia. You'll find the café at Calle de Ercilla, 13, a stone's throw from the Central Market. More than 125 years of history speak to its tradition and quality. In addition to horchata, you can also sample drinking chocolate and homemade churros (fritters) or buñuelos (donuts), among other things. All delicious! Another excellent horchata café is Subies, located in San Lorenzo Square. They offer not only traditional horchata, but also exquisite ice cream.
Handicrafts and local products
Barrio del Carmen is the perfect place to shop for unique gifts and handicrafts. At Abanicos Vibenca, you will find artisanal hand-painted fans, true works of art. The creations carry on a tradition in this trade dating back to 1910. Three generations of this Valencian family have been painting fans by hand since that year. The shop is located at Plaza Lope de Vega, 5.
For original items, another option is Simple at Calle del Palau, 5, where they sell both designer pieces and inspiring, simple, timeless objects, all made in Spain.
If you're a book lover, you won't want to miss Librería Anticuaria Rafael Solaz. Located at Calle Sant Ferrán, 7 (a stone's throw from the Central Market), this antiquarian book shop will enchant you with its magic. You can't imagine all the unusual and unique books you'll find there.
We're sure you'll agree that we always want to take home souvenirs of our trips, but we can't always come up with something unexpected. The answer can be found in Caballeros Street, at Atypical Valencia, a shop specialising in products inspired by Valencia's heritage. The unique touch is that the postcards, tote bags, magnets, T-shirts and puzzles sport prints by true artists.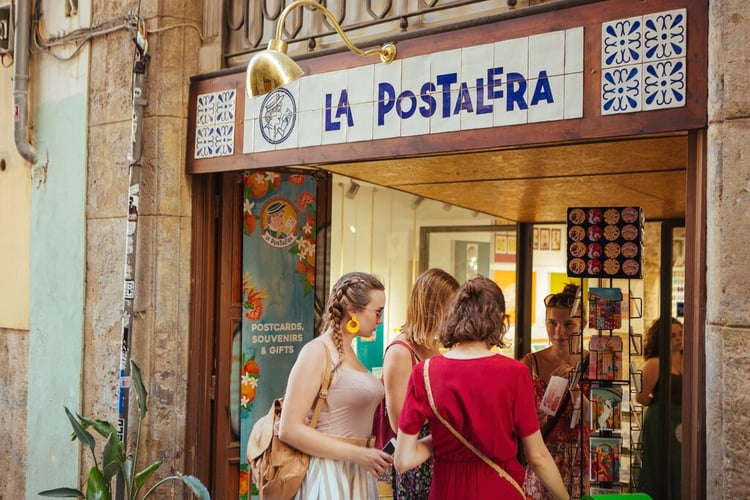 La Postalera is another fun spot to visit. You'll find delightful objects to remember your experience in Valencia. La Postalera is the perfect place to pick up a wide variety of original gifts and souvenirs created by Valencian and Spanish artists. There are two locations: Calle de la Corretgería, 4 and Calle de Les Danses, 3.
Outdoor cafés and agua de Valencia
When night begins to fall, there's nothing better than grabbing a bite outdoors. Tapinería Market has a great atmosphere. It is made up of two pedestrian squares and five businesses, of which two are culinary spaces: La Bernarda and Bar & Kitchen. Their patios are the perfect place to enjoy the Valencian moon.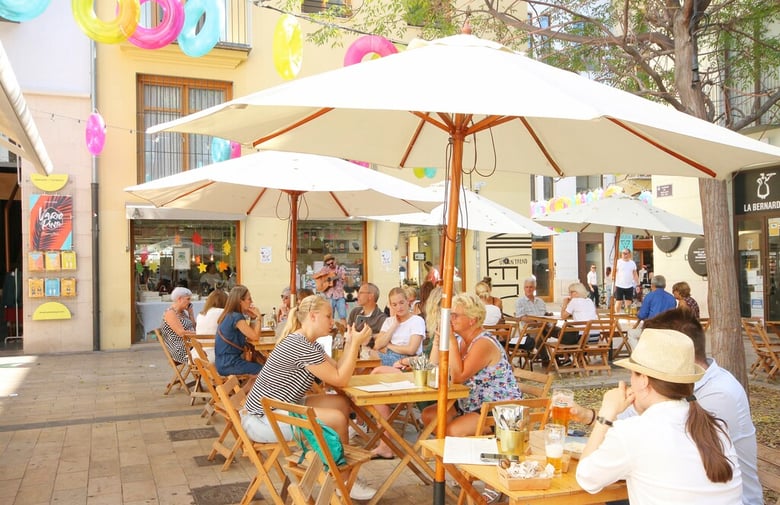 And there are other options on the busy neighbourhood squares: Negrito, Santa Catalina, Carmen, el Tossal, Doctor Collado, Mossén Sorell, etc. Choose the one that most appeals to you and enjoy the final experience of the day. Ah! And don't forget to sample the city's most iconic cocktail, agua de València, at Café de las Horas (Conde de Almodóvar, 1). You're sure to love it!