Oddly enough, working while feeling like you're on vacation is possible, but only if you're in the right place.
Whatever you call it - a workcation, digital nomadism or a telework vacation, Valencia is the perfect place to make a living and disconnect at the same time.
Because the sea makes everything better. The good weather lets you play sports or work outdoors 300 days a year, and Valencian cuisine is growing at such a pace that you feel like you're on vacation the moment you turn off your computer.
But Valencia also offers new opportunities every day, with an increasingly international atmosphere and work spaces spread throughout the city.
Still not sure? Keep reading, and we'll tell you why teleworking from Valencia is such a great experience.
7 reasons to come to Valencia on a workcation
There are always plenty of reasons to come to Valencia, but living here is something else entirely, because it brings together the best of everyday life and leisure: it's a great way to maintain that balance between work and personal life that is sometimes so hard to achieve.
Here are seven reasons that will end up convincing you.
#1 Good weather year-round



You know this very well, because Valencia is famous for its mild and stable climate, even in winter.
There's a world of difference between teleworking in a temperate environment that averages 15°C all winter long, and doing so when it's freezing outside and all you want to do is stay indoors.
There's a reason why people say the sun is the source of life.
#2 Nature beyond the beach



Yes, the beach is an important plus, but nature in Valencia has much more to offer inside and outside the city: in the heart of the city there are several green areas, most notably the Turia Garden, and a stone's throw away are places like the Albufera and El Saler.
#3 Valencia is very well connected



Getting in and out of Valencia is very easy by land, sea and air.
Valencia International Airport connects the city daily with the leading European cities and, of course, with a large number of Spanish cities.
The same happens with train connections, with two stations: the Joaquín Sorolla High-Speed Rail Station, which is great because you can be in Madrid in 90 minutes, and the North Station, with connections to points in the province, because it can't all be work, and you'll have to visit the prettiest towns in Valencia, right?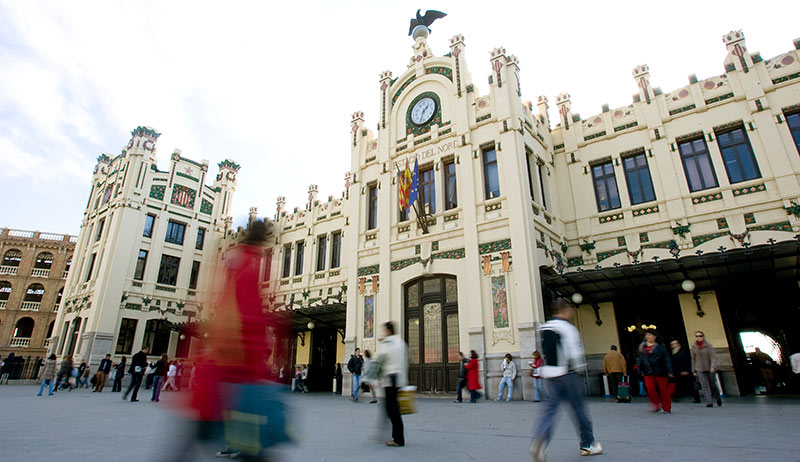 And to go on a short getaway to the neighboring Balearic Islands, there is the port of Valencia, where you can take a direct ferry to the Pityusic Islands, where you can spend a weekend or just one day, since they're so close.
What about inside the city? You can travel by bus, metro, tram, taxi and, if you like riding on two wheels, by bike or scooter, since Valencia is very flat and has 160 kilometers of bike paths, which makes getting around convenient.
#4 It's among the most important cities in Spain



Valencia is the third largest city in the country, which is evident the second you set foot it in thanks to its atmosphere and lifestyle: it is a cosmopolitan city that exudes culture in every corner, with activity around the clock.
In addition to its importance as the third most populated city, it's also home to some of the most valuable treasures in the country, such as the City of Arts and Sciences, La Lonja, the Central Market and its Cathedral.
And speaking of the city's charms...
#5 Its cultural, culinary and leisure offerings



IThere's always something to do in Valencia.
From partaking in the various events on the city's cultural agenda, to savoring Valencian cuisine in any of its restaurants - starting with paella, of course - and visiting its most iconic places.
#6 In Valencia, you don't have to worry about your health
If you come to Valencia and need medical treatment or to recover from a disease, you have at your disposal the best doctors, centers with all the specialties and prestigious hospitals with the best technology and research.
Not to mention that the city is a more than adequate place to recover thanks to its mild climate with many hours of sunshine, its pace of life and its gastronomy based on the Mediterranean diet.
#7 Shopping in Valencia
Another strength of Valencia is that going shopping doesn't just involve the typical franchises and department stores; after all, there's a reason that design and craftsmanship are in the DNA of this land.
If you telework from Valencia, you will no doubt be unable to resist adding exclusive silk scarves to your outfits, buying some original ceramic pieces or becoming a fan of Valencian appetizers, which we call here "vermouth time". Try our cold cuts and cheeses, a pâté with local olives or that most special of treats, canned eels, all washed down with a beer, wine or vermouth made in Valencia.
In addition, when shopping in Valencia, you can avoid the stress of other, larger cities. You can spend the afternoon wandering around the neighborhood of El Carmen, exploring stores and galleries where you can get decorations or clothes from local designers, and be in the center in just a few minutes to do your routine shopping.
Options for teleworking in Valencia and having everything you need
If you still don't have enough reasons to come to Valencia to work, here are some places in the city that have gone to great lengths to offer everything you need during your stay in Valencia to telework.
This city hotel offers two options for its facilities converted into spaces for teleworking: the day stay or the long-stay workcation.
The day stay lets you use a well-appointed room to work and, if that's not enough, use all the hotel services from 8 a.m. to 8 p.m.
This way you can take a quick dip in the pool in between videoconferences. Or go up to the roof for a little sunbathing after clearing out your mailbox.
And who is the long-stay workcation for? For those looking to work hard and play hard:
• If you're on vacation in Valencia and your body asks you to stay a few days more, even if you have to work from here.
• If you came for work for a few days and prolong your stay a little to enjoy the city and turn off the company phone.
• If you work half a day and have the other half free, which, believe us, goes a long way in Valencia.
They have apartments in the main areas of the city, from the Ruzafa neighborhood to the City of Arts and Sciences and, of course, the central area.
You can rent a house by the day, week or month, so you can come to work in Valencia for as long as you want and with whoever you want: as a couple, with the family, or by yourself if you prefer.
If you have chosen Valencia to study, congratulations, because it is considered one of the top 100 university destinations in the world thanks to the reputation of its schools and its quality of life.
In Live4life, you can look for an apartment without having to go anywhere since the whole process is online: you pick a house, visit it virtually and apply with the owner all through the website. And you're protected by law.
If you're looking for a co-living arrangement to work and live with the comforts of living alone but with others, look no further than MyCo Living: fully equipped homes with single or shared rooms and common spaces such as a kitchen and living room.
This is a great option if you come from anywhere in Spain or abroad because, in addition to having a place to live, they organize activities for you to enjoy the city to the fullest.
If you already have a place but need somewhere to work, Wayco offers two in different areas of the city.
It offers coworking with work spaces, offices, meeting rooms and other facilities for teleworking, whether you want a fixed place or by the hour.
The trick here is that the atmosphere is collaborative and you will meet professionals from other sectors that you can perhaps network with.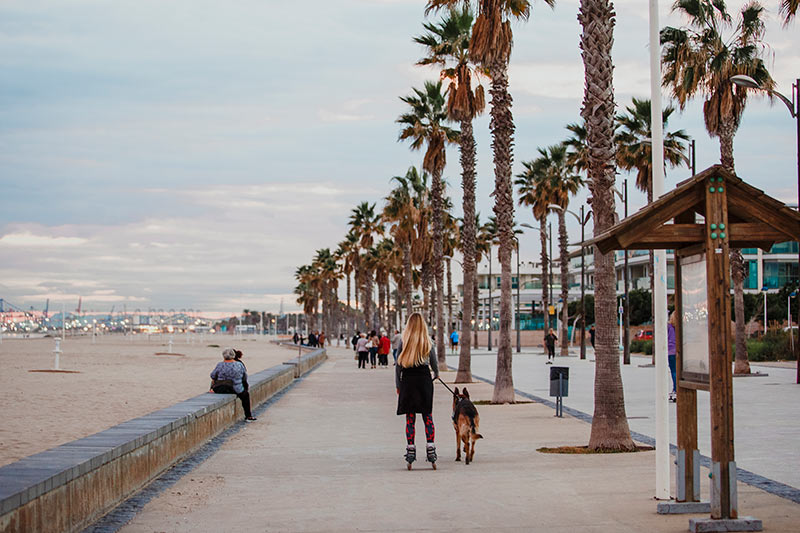 If you don't have time to organize anything, don't worry, they'll take care of that here.
They'll look for whatever you need to work remotely in Valencia: accommodation, the space to work and even arrange dinner for you.
You'll like this suggestion if you're a professional who's also a bit of a foodie.
This is a space where you can set up gastronomic activities in a setting that is equipped to hold meetings, sales presentations or even incentive and team-building events.
Teleworking in Valencia: the fun starts when you turn off the computer
So what happens after work?
When the workday is over, the fun is just getting started.
Make the most of being on the coast and take part in nautical activities, and maybe even get your sailing license. The company Alfa Náutica, in addition to sailing courses, offers everything from outings on sail boats, motorboats, unlicensed boats and jet skis, to fun banana boat rides.
And outside the city, Xativa is a must. This place was one of the most important cities in the country in the 14th and 15th centuries. It was even an episcopal see, and the cradle of a family you've probably heard of: the Borgias.
Don't miss the views from its imposing castle or stop by the city museum to find out why there's a picture of Philip V hanging upside down.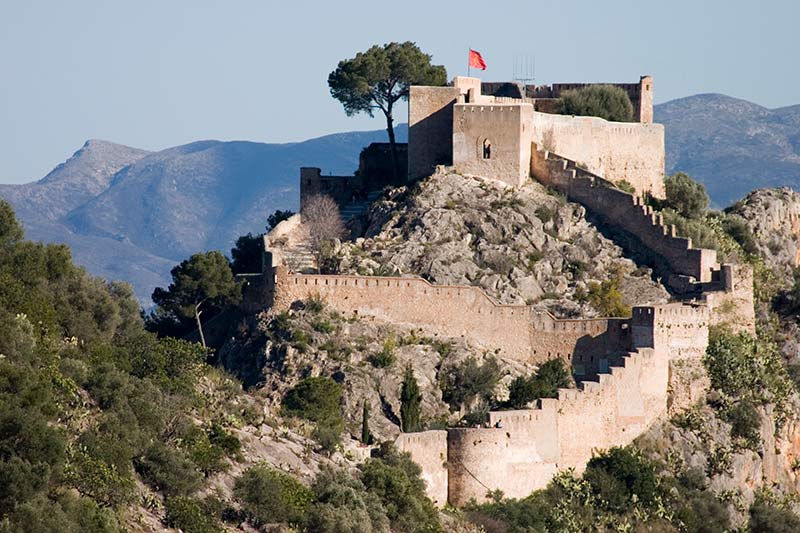 Sagunto also has a lot of history to tell, dating back to the times of the Iberians. Although it was the Romans who worked so hard to give the city all its splendor and bestow us with all the well-preserved monuments we enjoy today, such as its Roman theater.
You can also visit the remains of the Temple of Diana, the Jewish quarter and its castle. And all under the watchful eye of the Mediterranean.
We continue on the coast, to Cullera. The most striking thing is the Muslim castle that crowns the city. As you can imagine, the views of the Mediterranean from here are... impressive!
Other places of interest are the Sanctuary of the Virgen del Castillo and the Tower of Santa Ana. To cap off your day, take a short stroll by the sea to recharge your batteries.
But all this is just a small sample. There are other cities full of history waiting for you, such as Gandia, where the Borgias also spent time and where you can visit their Ducal Palace, Peñiscola or Bocairent, to name but a few examples.
As you can see, teleworking in Valencia has much more to offer than you thought. All that's left is to pack your suitcase, get your laptop and come enjoy your first workcation.
We look forward to seeing you!