The cinema may have elevated paving stones to the category of myth with the Wizard of Oz's yellow brick road, but for one hundred years, València also had a highly prized ceramic tile that created multicoloured carpets on floors all around the world. Some continue to display their glory, while others lie dormant, awaiting rediscovery. But they all have a characteristic identity and share one name: Mosaico Nolla.
Tessera by tessera, decade after decade, during the transition between the 19th and 20th centuries, Mosaico Nolla charted a path for Valencian ceramics from Meliana, a town in the Horta Nord district near the city of València, on course for the rest of Spain and the world.
Piece by piece, these tesserae formed one of the hallmarks of Valencian art nouveau. Geometrical patterns named for Miguel Nolla, the business owner who began manufacturing them in 1860 in Meliana. In their day, these materials and designs made Mosaico Nolla a symbol of distinction. The passage of time has turned these carpets of ceramic tile into historical treasures.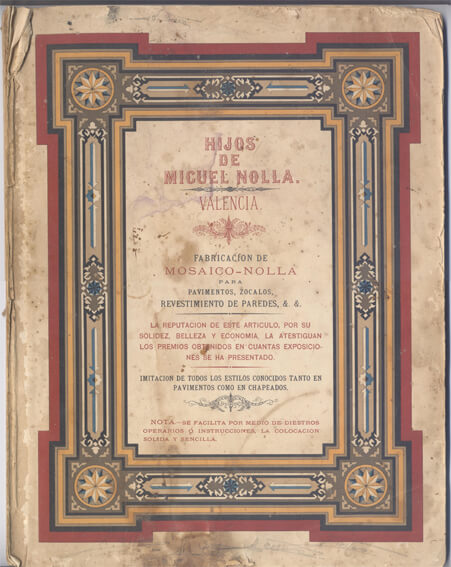 What is Mosaico Nolla
?
The ancestors of the much-prized tesserae came to Spain from England, brought by entrepreneur Miguel Nolla, thanks to a manufacturing privilege granted by Queen Isabella II of Spain.
Thus did València begin manufacturing Spain's first high-performance ceramic tiles, small, coloured pieces of matt ceramic stoneware measuring four or five centimetres along each side. They were produced by pressing pulverized clay and firing it at over 1200°C.
Mosaico Nolla is different from cement tiles, which emerged later. They may look similar, but the quality and cost are lower. These pieces are made up of a layer of pigmented cement on a cement base. These are pressed and the air is removed. Over time, the surface is smoothed by wear and tear.
In the factory, a creative team designed mosaic patterns, and master mosaic artists were responsible for painstaking placement that took hours. One square metre of Mosaico Nolla could contain some 600 pieces.
Their features and production represented a design and industrial innovation revolution in Valencian ceramics. In fact, the Meliana factory had the first telephone line and mains power in town.
The Nolla family continued to head up the business until 1920. It then changed hands, but the famed mosaic tile was still marketed until the 1970s.
Palauet Nolla
In the vicinity of the factory stands the emblem of this global art nouveau treasure, Palauet Nolla. Miguel Nolla, and later his children, used this former farmstead as a showroom to display their products and present them to visitors.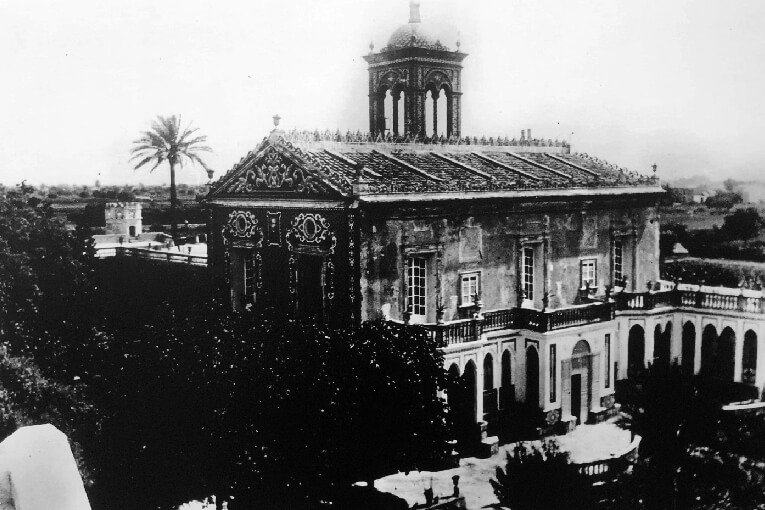 After changing hands for years, the mansion was donated to the Meliana Council. A restoration project was begun in 2010 and is still underway, headed by ARAE, a studio specializing in heritage sites and restoration. It opened to the public in July 2020.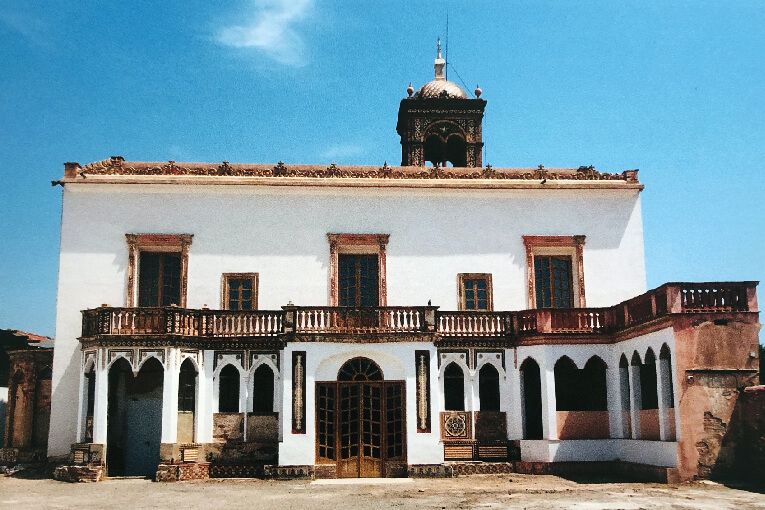 Under the feet of half the world
In the city of València, there are a number of places where you can discover the virtues of Mosaico Nolla. The City Hall, Principal Theatre, Post Office, Exposition Palace, Central Palace and numerous façades of residential buildings in the Cabanyal neighbourhood all feature this ceramic treasure.
In Barcelona, Antonio Gaudí succumbed to the delicacy of these Valencian pieces, which can be seen in Casa Batlló. And they are in Casa Burés, also in the Catalan capital; Magdalena Palace in Santander; and the St Francis Chapel of Santa Ana Church in Triana (Seville). In Madrid, Villagonzalo Palace and Fernán Núñez Palace boast the ceramic compositions.
Buenos Aires Cathedral, Paris residences and the Moscow underground also form part of the Nolla universe, along with other spaces in Portugal, Uruguay, Chile and Cuba.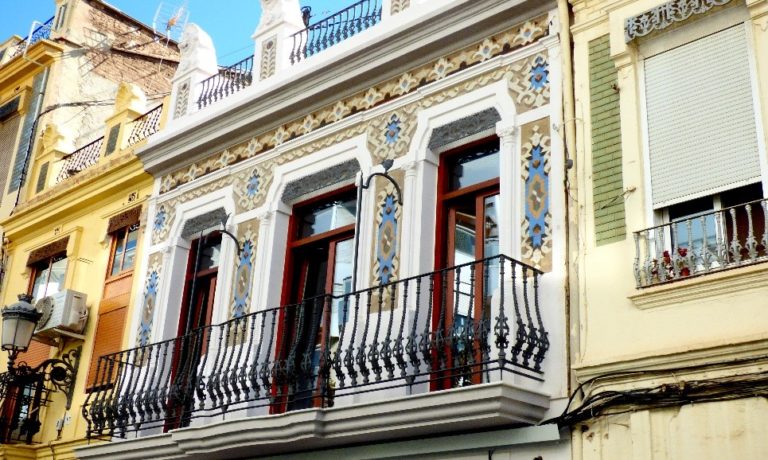 Mosaico Nolla today
Today, there are no Mosaico Nolla manufacturers, although there are restorers like València's Salvador Escrivà and a group of mosaic artists from Meliana who continue working in the traditional manner, just as their parents and grandparents did.
It is also possible to find mementos that evoke the past of these prized tesserae. From souvenirs such as postcards and magnets created by Atypical Valencia out of wood and glued paper to broaches inspired by these ingenious tiles from the ARAE studio.
The Nolla Centre for Ceramics Research and Promotion (CIDCeN), created in 2015, has several original catalogues from the period and a collection of sample pieces, designs and patterns which master restorers can consult for their work. It also helps to corroborate the authenticity of tiling and advises on recovery and care of the pieces.
Nolla world map
The CIDCeN has embarked on a new and ambitious project: to follow the trail of Mosaico Nolla throughout the world.
This involves putting together a digital map of all the spaces with floors and surfaces covered by this hundred-year-old Valencian ceramic, on an open, participatory multimedia platform. The initiative is backed by the Ministry of Culture and World Design Capital València 2022, with advice from ARAE.
The goal is to track down and determine the coordinates of Mosaico Nolla, 150 years later.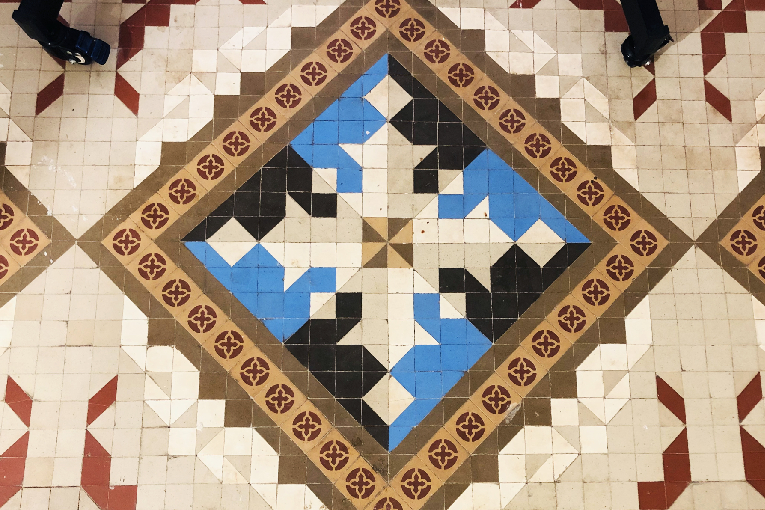 Foto: Arae Patrimonio & Visit València.