Did you know that the València Region has the most number of blue flags and an outstanding number of distinctions in Spain? So during the warm sunny summer days and cheerful evenings, incredible gastronomy and idyllic beaches are all waiting for you!
València has the perfect beach as there's an endless variety: urban, pet friendly, wild or virgin, nudist, recreational, family-oriented... there are beaches for everyone!
So if you are planning your escape and wish to splash into the blue waters of the Mediterranean, take note these are the features of the city's and surrounding beaches you can choose from!
Urban beaches: Disconnect in the heart of the city
If you want to tour the city and head to the beach on the same day, València makes it possible! These are the best known beaches in the city:
- Las Arenas, La Malvarrosa and Cabanyal
These are València's beaches that boast the best dining and leisure facilities. They are easily accessible by public transport and are perfect for unwinding while strolling and enjoying their delights with every sunset: street performers, a lively and active atmosphere, live music, etc. They have some of the best restaurants in València to enjoy a delicious paella like: La Pepica , El Coso , Casa Carmela , Casa Isabel , Destino Puerto , Tridente or Vlue, Brassa de Mar , Marina Beach and Panorama at the Marina de València. Thousand places to choose from!
- The Patacona
A highly recommended and easily accessed by public transport. This is València's very last beach before reaching Alboraya and is less crowded than those mentioned above. Over the past few years it has increased its gastronomic options and it has become filled with charming patios for dining or enjoying a morning brunch.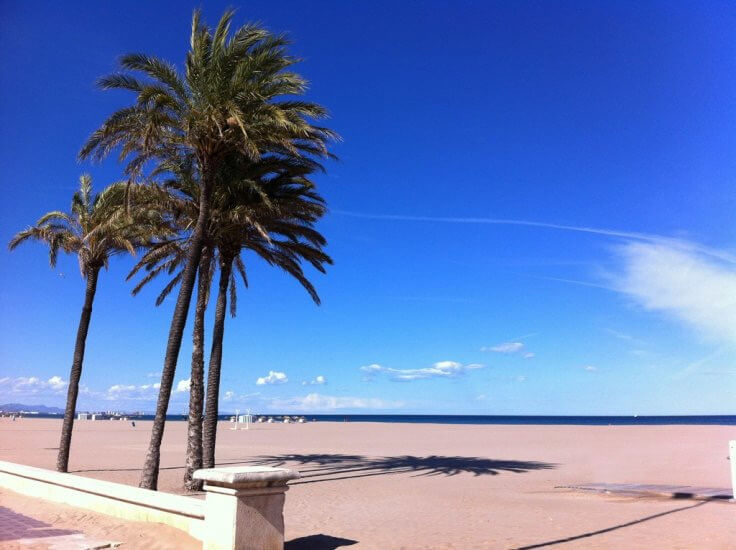 The Beaches Surrounding València
If you wish to escape the urban beaches and not go too far, València has perfect beaches less than 15 km from the city. Here are some of the best known:
- Playa del Saler, La Garrofera, La Devesa and L'Arbre del Gos :
El Saler's beaches are the nearest to València, but they differ greatly from the urban ones: they are the most unspoilt and without large constructions nearby. These are beaches with natural dunes and vegetation specific to the area, all within the borders of the Albufera Natural Park . They are perfect if you would like to avoid the crowds.
To live an authentic gastronomic experience in this area, the Mateu restaurant , the Nou Racó or the Dune Rice restaurants will allow you to experience the local gastronomy. If you seek a longer stay, we highly recommend the Parador de Turismo el Saler Hotel, the perfect place to disconnect and enjoy your summer holidays.
- Recatí-Perellonet Beach
Also near València, you can find El Recatí beach at Perellonet. It is an urban setting due to the tourist apartment buildings, but with a very appealing local touch, as it leads from the Albufera to the Mediterranean Sea, which is a result of its natural setting. An extensive sandy beach with plenty of restaurants which makes it perfect for families with kids - there is endless space for sand castles!
If you would like to eat a delicious dish near Perellonet beach, the Arrocería Maribel or the Carranc will delight you.
- Racó de la Mar Beach
The Raco de Mar beach at Canet d'En Berenguer is a very small and charming beach. Although it is located in Sagunto, it boasts small groups of dunes with fascinating flora and fauna. This family-oriented and laid-back beach has become one of the most valued in the Valencian Community.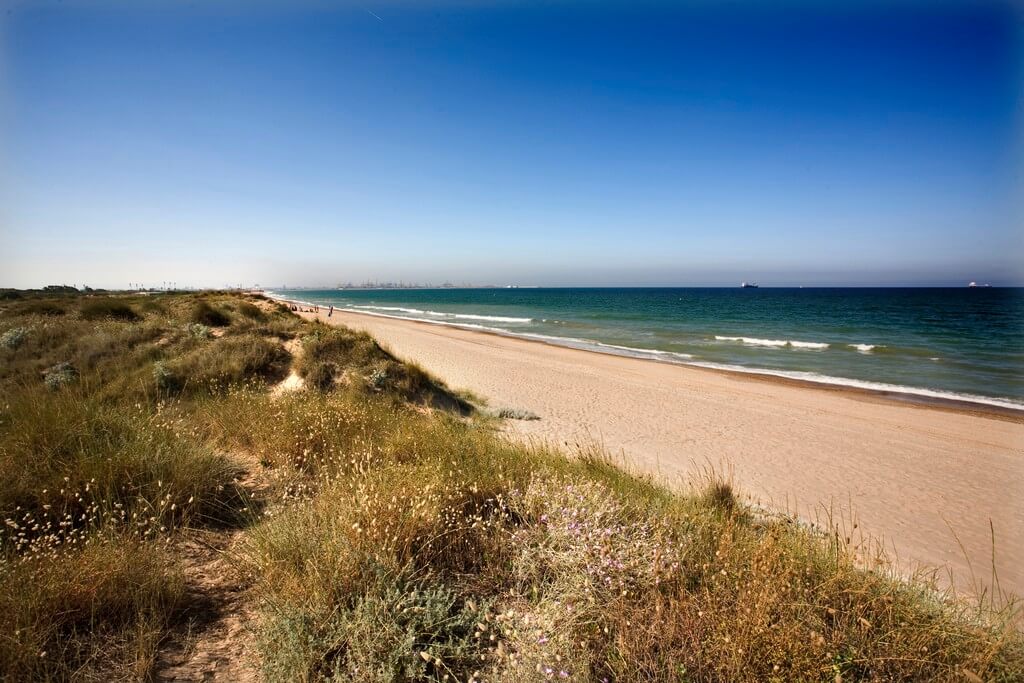 Pet-friendly beaches in València
Woof, woof! Do you wanna go to a beach with your closest friend?
In València you will be able to thanks to the pet-friendy beaches where you furry friend is always welcome:
In Pinedo is the closest canine beach to the city. This beach with its fine sands and calm waters is perfect for an afternoon of fun with your pet!
- La Torreta Beach - Santa Elvira
Situated in Puig, it is one of the best-rated canine beaches in València. Since 2016 the entire northern stretch of the beach has been adapted so you can go with your pet. It consists of sand and stones and has a calm tide.
- Alboraya Beach
Alboraya's pet dog beach is small, but perfect for enjoying a Saturday morning strolling with your pet along the shore and splashing in the sea. It lies between the northern flow of the El Carraixet River and the watercourse of La Marquesa.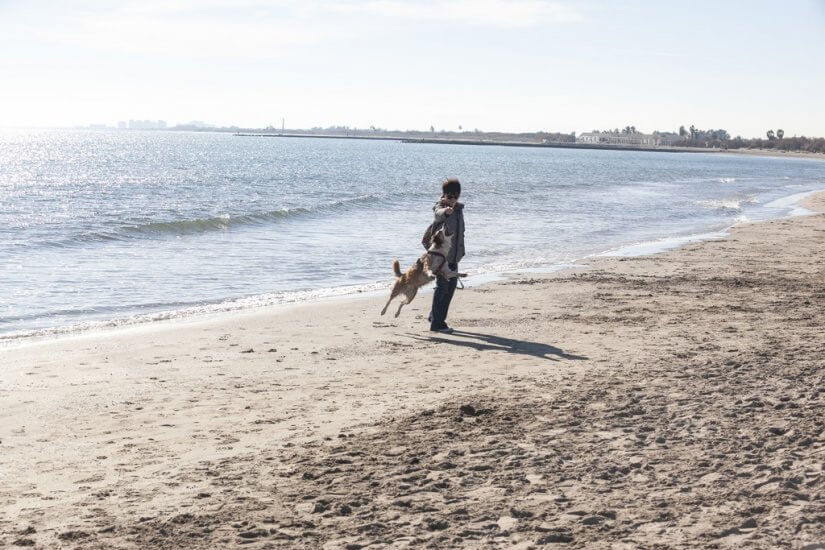 Wild and unspoilt beaches in València
Only a few kilometres from València you can enjoy unspoiled beaches free of crowds. If you wish to escape from the city and spend a day with no surrounding buildings, these are the beaches to add to the list:
- Between Tavernes de la Valldigna and Xeraco
In the Safor region there are various locations where no building have ever been built. Between Tavernes de la Valldigna beach and Xeraco beach, there are 2 km of pure tranquillity on a unspoiled beach. The dunes are a protected area with unique vegetation and species. Feel like exploring this area?
- L'Ahuir Beach
One of València's largest undeveloped areas, two kilometres long and 120 metres wide between the dunes and the sea, close to the town of Gandía. If you're a nature lover, then this is the perfect beach for you! In addition, it has two other attractions: a nudist area and a pet-friendly area.
- Terranova Beach
Located north of the coastal section of Oliva, it is one of the least frequented beaches in the area, though with more constructions than the one mentioned above. It is known for being surrounded by citrus crops and for its fresh water spring, called El Tou or El Clotal.
The latter areas are quite natural, so you won't have a lot of restaurant amenities - get your best picnic ready!
Got that covered? You can choose the beach that best suits your style and.... Enjoy!
València has an unforgettable summer waiting for you. Ready to join us?