The art of working clay by hand to make everyday objects has been part of human life for thousands of years. Moulded by hand and dried by the sun and fire, over time, containers emerged that were eventually decorated with drawings and geometric patterns.
With the passing of time, this tradition – both utilitarian and ornamental – has taken on a personality and skill of its own, coming down to today in the hundreds of artisans who continue to create pottery, ceramic and porcelain pieces in the Valencian Community. How would you like to meet some of them? Come along with us on a tour of their workshops.
The Silk Road and the Mediterranean brought to Valencia techniques and materials which have been passed down century after century from one set of hands to another, giving shape to an extraordinary knowledge and creativity that have made the city and other nearby towns the cradle of European ceramics. In fact, the González Martí National Museum of Ceramics is located in Valencia, housed in Marqués de Dos Aguas Palace, a jewel of the Valencian baroque style (calle Poeta Querol, 2).
Ceramics are the prime focus of the top floor of the museum, whose permanent collection features pieces from towns such as Paterna and Manises, along with oriental ceramics and a group of pieces donated by Pablo Picasso.
While this museum provides an overview of ceramics over the centuries, La Almoina Archaeological Museum allows visitors to explore ancient forms of pottery work, as well as the medieval classic known as Paterna 'green', dating from the 13th century.
From art to design
Valencian ceramics – a name which comes from the Greek keramicos, burnt substance – hold room for a number of meanings: from tilework, a driving force in the regional economy, to functional pottery, decorative ceramics and the new ceramics, fostering design and innovation. Not to mention the creations that blend uses and trends.
Their many versions have been forged over the centuries by the melting pot of peoples and cultures that have moulded the Valencian identity. And by advances in firing methods and raw materials. From the Iberians to the Arabs, who inspired the use of colour, followed by the medieval guilds, Art Nouveau, the Bauhaus and so on, until the 21st century, each period and each artisan has left its mark on an art which sets the standard around the world.
From the Vatican palaces to the Naples palace of Alfonso the Magnanimous and the international presence of Lladró porcelain (Poeta Querol, 9), Valencian ceramics have travelled the world and continue to do so, thanks to the 400 artisans currently estimated to be working in this profession in the Valencian Community.
Artisans who continue to enrich Valencia's cultural and craft toolkit through flexible materials that can adapt to constantly evolving needs, forms and trends, without losing sight of their ancestral roots.
Tradition
Traditional Valencian ceramics live on in the manual kilns that have operated for generations, coming down to us today thanks to shops in the Ciutat Vella district. A stroll along the streets of El Carme neighbourhood offers the chance to discover small ceramic treasures.
Setting off from Valencia's Central Market (Plaza de Brujas), one of the city's Art Nouveau icons, we come to Artesanía Yuste, where craftsman Enrique Yuste offers an extensive selection of ceramics through the ages. From there, it is easy to reach Redonda Square (junction of Pescadería, Vallanca and Síndico streets), one of the most delightful spots in the capital on the River Turia.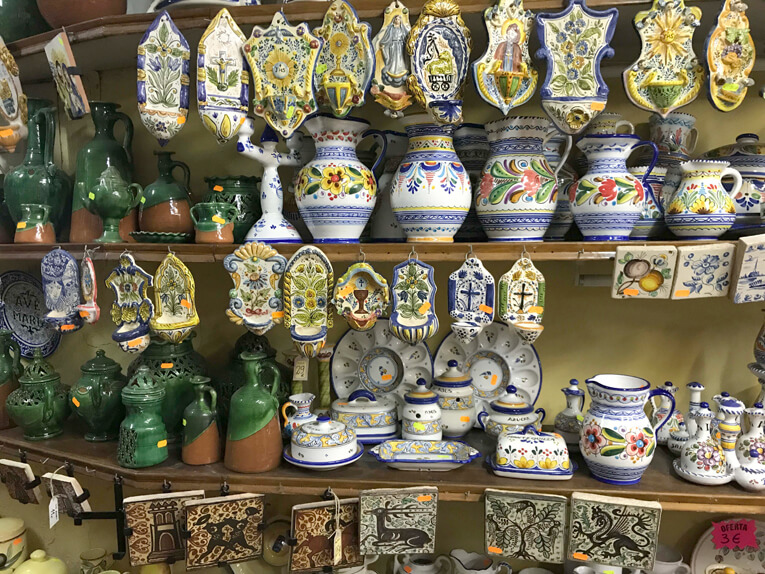 Chez Ramón ceramics shop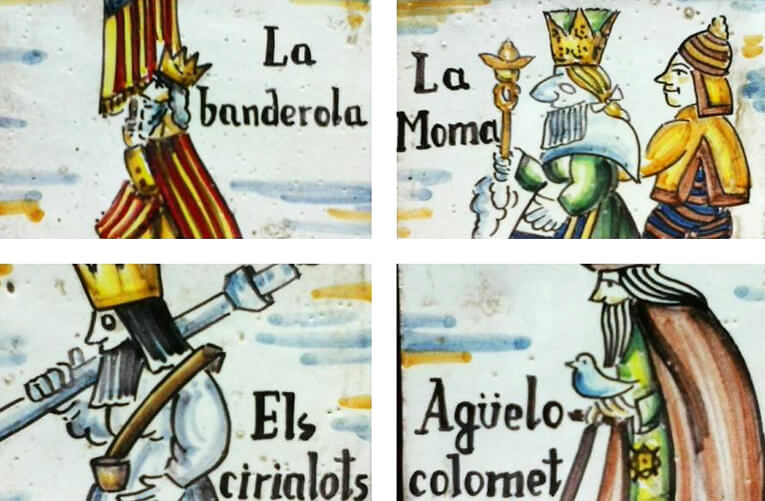 La Casa de Los Botijos
Since the 19th century, such shops as Colla Monlleó, Chez Ramón and La Casa de los Botijos have brought the creations of master ceramicists from the entire metropolitan area to Valencia. Arturo Mora, Vicent Monlló and Rafael Mora are a few of the names inscribed on their collections, which recreate a range of traditional styles: from medieval religious motifs to Gothic blue (16th century), metallic reflections (15th century), and the coloured ornamental ceramics of the 17th and 19th centuries, not to mention today's more modern options.
On their shelves can be found decorative plates, dinnerware, cups and containers, along with iconic and unique pieces from Valencian history. Among them are alfabeguers, which were used to hold basil plants during the summer – to freshen the air and repel mosquitoes – and whose top lid allows them to retain their decorative value during the winter months.
Another piece dating back to the Middle Ages that has survived thanks to our master craftsmen is the mancerina, a platter with an indentation in the middle, ideal for holding a small cup, allowing the user to enjoy drinking chocolate while standing, without any danger of it spilling.
The Arts and Crafts Centre of the Valencian Community (calle del Hospital, 7) offers the opportunity to discover the work of traditional artisan workshops such as Sucesores de José Gimeno and Arturo Mora, along with experts in one of the oldest pottery techniques, socarrat, including Enrique San Antonio.
This technique from the 16th century – a piece of baked clay to which a layer of whitewash is applied, then decorated in dark hues, normally black and red – still survives in the Patraix neighbourhood in the workshop of José Luis Camarena, Artesanía Socarrat (Calle Pío XI, 36 bajo).


Workshop of José Luis Camarena, Artesanía Socarrat
The city also boasts a must-attend artisanal crafts event, whose origins date back to the time of King Jaume I: l'Escuraeta Market, which is traditionally held in May, coinciding with the feast day of the city's patron saint, Our Lady of the Forsaken, which falls on the second Sunday in May. This street market devoted to household ceramics is set up in Reina Square, at the foot of the baroque Los Hierros Door of Valencia Cathedral. It runs until 12th June, the Festival of Corpus Christi.
Modernity
Alongside that tradition, the spotlight has recently fallen on ceramics artists working in a more contemporary vein, using age-old techniques to achieve different results. Craftspersons who combine their expertise as potters and decorators with new creative materials and influences linked to design, art and innovation.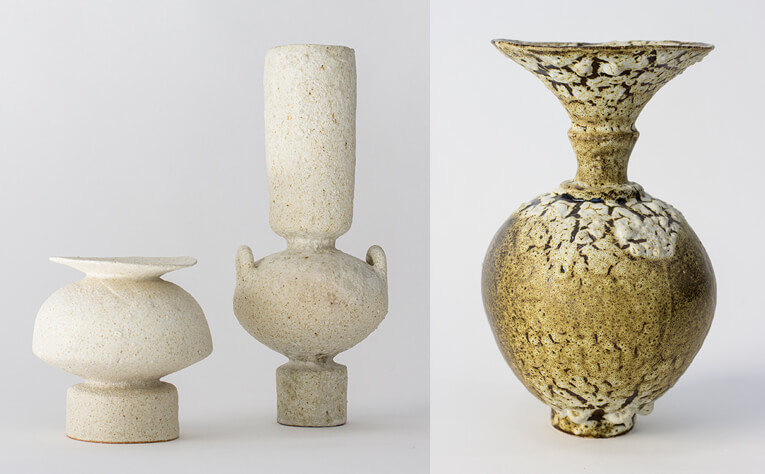 Pieces by Raquel Vidal and Pedro Paz de Canoa
These pieces usher in a new chapter in the ancient history of ceramics, combining culture, folklore and contemporaneity. In the hands of Raquel Vidal and Pedro Paz of Canoa (calle Puerto Rico, 40 bajo), the sculptural pottery of the Greek and Roman civilisations is revitalised with new finishes that lend it an aesthetic at once rustic and modern.
That same Mediterranean inspiration, linked to a new vision of craftsmanship revolving around light, colour and polished surfaces, is present in the creations of Jorge Montalvo of the Cerámica Montalvo workshop (Calle Consol 13), near the Cabanyal neighbourhood.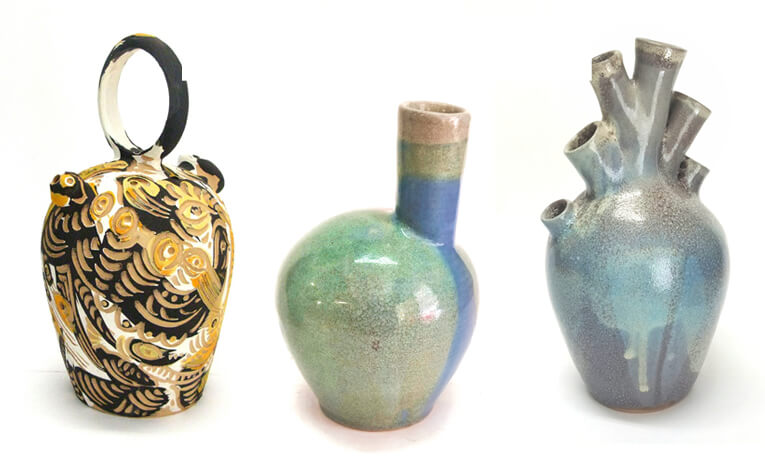 Ceramics by Jorge Montalvo
From a family tradition drawing on basketry, cabinetmaking and glass come the unique offerings of Do Manises, noted for its contemporary clay creations. Work that merges with the training of new artisan potters. (Centro de Artesanía de Valencia – Calle Hospital, 7).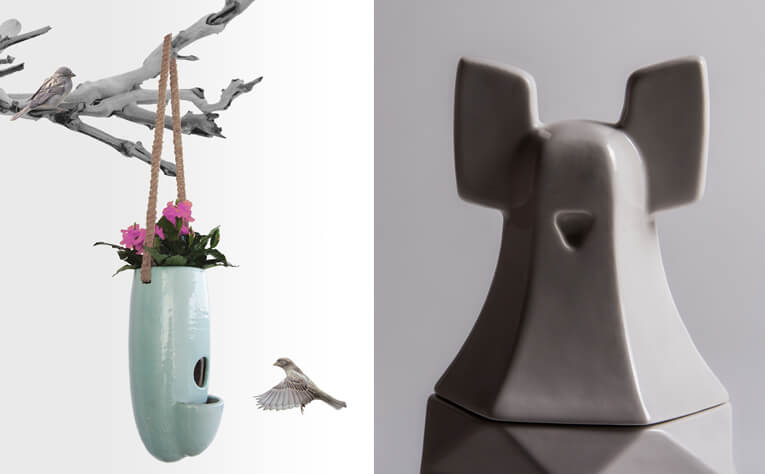 Modern clay creations from Do Manises
That vocation for teaching, so characteristic of ceramists, is also shared by Celia Collado and Patricia Soriano of Cuit (Calle Ontinyent, 8), a space open to all near the Mercado de Abastos (market) where it is possible to experiment with clay and which also serves as an atelier where they work on their pieces, noted for subtle lines.
La Postalera (Calle de la Corretgeria, 4) is among the Valencian shopping establishments where contemporary design and ceramics go hand in hand. Its shelves are shared by unique pieces from Flora Veiga and the geometric designs in pastel tones of Temple Ceramic, among many others.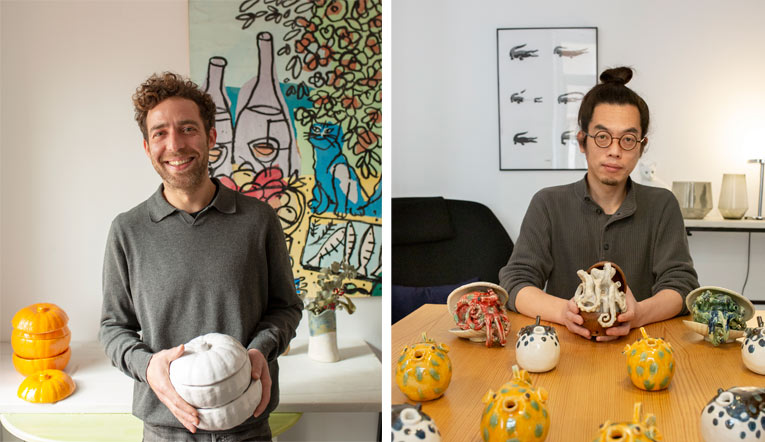 Francesco Sillitti and Takashi Matsuo
And one curiosity. Two local artists were born far from Valencia, but their constant contact with local handicrafts has inspired them to undertake their artistic pursuits in pottery in the city. Pieces by Francesco Sillitti, which evoke Valencia's farmland area, and the marine-inspired sculptures of Takashi Matsuo merge the international gaze with Mediterranean culture.
Value
To highlight and promote the intangible value that connection between craftsmanship, modernity and design brings to Valencian ceramics, a new initiative titled Ceramic DNA has been created as part of World Design Capital València 2022. In this project, thirteen experts, heading by González Martí National Museum of Ceramics Director Jaume Coll, set out a map of Valencian artisans.
The aim of this project is to recognise the efforts of masters in their work transmitting knowledge, theories and a love for ceramics that are not written in any book, and which draw attention to the unique differentiating value brought by Valencian artisans. A duality of craftsmanship and innovation that leads the world and continues to inspire new generations of ceramists and designers.